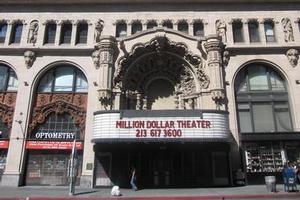 Ten years ago, the view from the corner of Fourth and Spring streets in downtown Los Angeles would have been confronting. Hundreds of people lived rough on the streets in a shanty town of cardboard refrigerator boxes. Drugs and crime were rife, and the area was a virtual no-go zone for tourists.
In 1999, the Los Angeles City Council passed an ordinance that allowed unused office buildings to be converted into apartments. Developer Tom Gilmore bought up a series of century-old buildings on the corner of Fourth, Spring and Main streets and converted them into lofts, a development now known as the Old Bank District.
It revitalised the area and inspired others to do the same.
Cafes, restaurants, bars and art galleries started to open, and people followed. The residential population of downtown LA has boomed by 20 per cent in two years.
Even some of Hollywood's stars have descended from the hills - Johnny Depp and Kevin Spacey both have apartments downtown.
All of which is great news for visitors because it means you can now safely stroll around the largest historic district in the US. Unlike most cities that tore down their older buildings and replaced them with skyscrapers after World War II, LA's downtown was left intact as people vacated the area and headed west. As a result, the famous Broadway streetscape is practically unchanged since the 1930s. This has made it a magnet for film-makers who often use it to recreate cities like New York and Chicago at the turn of last century.
The reason I know all this is because I'm on one of Red Line Tour's daily walking tours of downtown LA. The company uses a system where customers wear a headset receiver and the guide speaks into a microphone transmitter. With a range of about 100m, it's a godsend for anyone who has ever struggled to hear a guide because of traffic noise or a group so large you can't get near them.
We start in the Bradbury Building, one of LA's undisputed architectural gems with its stunning five-storey galleried atrium, marble staircase and intricate wrought-iron railings. Designed in 1893 by a relatively unknown draftsman, George Wyman, it was inspired by the futuristic description of a building he found in a novel about a utopian society in the year 2000.
In more recent times it's become famous as the setting for the climactic rooftop scene in the film Blade Runner and it has also made appearances in Chinatown, DOA: Dead Or Alive and Lethal Weapon 4.
With, on average, five films being shot every day in downtown Los Angeles, you'd struggle to find a building or streetscape that hasn't been used in a movie. The blockbuster Transformers was shot on Broadway; Palace Theatre was the setting for Dreamgirls; Mission Impossible 3 was shot on 4th and Hope St; and the Spiderman series was shot on 7th St.
Why bother with Universal Studios when you can walk around here for free?
From the Bradbury, we pass through a tiny urban park dedicated to Biddy Mason, the first black woman allowed to buy land in LA. Born into slavery in Georgia in 1818, she moved to LA after being emancipated and worked as a nurse and a midwife. A generous benefactor of local charities, she was also instrumental in setting up a travellers' aid centre and a local elementary school.
Other highlights on the tour include the Nickel Diner, named after the bags of drugs that used to be available in the area for a nickel; Coles, the oldest restaurant in the area and the alleged creator of the French Dip, a heart-attack inducing beef roll dipped in beef juice; and the Rosslyn Hotel, where U2 shot its famous rooftop video for Where The Streets Have No Name.
Given the grim economic outlook in the US, it'll be interesting to see how this area develops over the next few years. There's been a lot of talk about a $40 billion transport initiative to improve facilities such as installing hop-on/hop-off street cars in Broadway. Whether this still goes ahead or not remains to be seen but, either way, downtown LA is open for business.
IF YOU GO
Getting there: V Australia flies daily from Auckland to LA via Sydney. For more information and to book flights, phone 0800 8287 82 or see vaustralia.co.nz.
Staying there: The Philippe Starck-designed SLS Hotel has stunning interiors and is home to the award-winning restaurant Bazaar. 465 South La Cienega Boulevard. Rates start from US$389 ($547) a night. See slshotels.com.
Tour: Hollywood On-Location's walking tour runs daily from Red Line's office in Bradbury Building, 304 South Broadway. Cost is US$24.95 for adults, US$15 for children. Phone +001 323 402 1074 or see redlinetours.com.
The writer was the guest of V Australia and California Tourism.