One of the things Kiwis living overseas often say they miss is our beaches. At summertime, we head for the beach and many of us engage in some water sport, being it surfing, boating or just fishing! We talked to a selection of people about which of the many, are the country's greatest beaches. Today opera singer Simon O'Neill shares his favourite beaches. What do you think?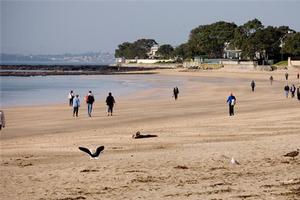 Simon O'Neill has rapidly established himself as one of the finest young helden-tenors on the international stage. The New Zealander is a principal artist with the Metropolitan Opera, the Royal Opera House, Covent Garden and the Salzburg Festival.
1. Onetangi Bay: A favourite with watersports enthusiasts, Waiheke Island's largest beach, Onetangi Bay boasts gorgeous golden sand and views stretching out to the Great Barrier Islands. The ferry ride from the city is another highlight.
2. The Abel Tasman National Park is known not only for its world-renowned coast track, but also for its gorgeous, golden sandy beaches. As a child I was fortunate enough for my parents took me to this most beautiful part of our country..
3. Mission Bay: The golden beach and thriving café scene makes Mission Bay a favourite among Aucklanders. I love this beach because it is so close to the city. It is fantastic to have the imposing Rangitoto looking down on you.
4. Milford Beach, North Shore: Milford Beach is a great little family beach with beautiful views of Rangitoto. When my wife Carmel and I arrived from London with our 15 months old twins Grace and Tom, this is where we headed to give them their first beach experience. We thought they'd just play at the edge of the water, but they ran straight in and paddled about, giggling and squealing.
5. Kaiteriteri, Golden Bay: Each summer my wife (then girlfriend) and I used to pack up my 1971 MG Midget and drive around the South Island. We'd always go to Kaiteriteri and soak up the classic Kiwi beach experience.
6. Tawharanui, near Matakana: This glorious beach is just down the road from Simon's house in Matakana. Its expanse and beauty is breathtaking and I'm so glad that it's now also a nature reserve.
7. Oriental Bay, Wellington: The glistening water, newly resettled golden sand and the bustling sidewalk on a sunny day in Wellington is electric. This is obviously what they were thinking about when they came up with the by-line that you can't beat Wellington on a good day.
8. St Kilda: My grandparents lived in Dunedin so I have lovely childhood memories of this beach then later, at university, I proudly played in the St Kilda Brass Band.
9. Piha, West Auckland: Piha is my favourite winter beach. The black sands are crazy hot in the summer but, in the winter, they add an inky ruggedness to this moody and romantic windswept beach.
10. Caroline Bay, Timaru: Caroline Bay is another big childhood memory for me. Beautiful golden sand right down the road from Ashburton where I grew up. Fantastic during the summer especially for families.