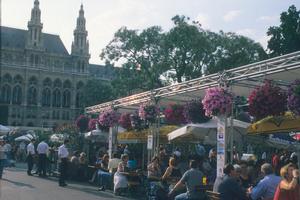 A colleague who has never been to Europe has the chance to attend conferences in Vienna and Zurich, and she's keen to combine an extra two weeks' travel before or after each. Where and how do you recommend a first-time Europe visitor travels for each of those two weeks? Anne Bennett
Lonely Planet's London-based Travel Editor Tom Hall writes:
The key piece of advice is not to try to do too much. The continent is meant to be seen slowly. If your colleague will resist the temptation to try and see 11 countries in 14 days she'll have a much better time.
The opportunities for exploring from Vienna or Zurich are endless, but a journey between the two would be a fortnight spent in breathtaking Alpine scenery. In July it will be clean and green, with plenty of sunshine to attempt a hike or two. Logical stops include Salzburg, where you can get on the trail of Mozart and the Sound of Music and the mountain city of Innsbruck.
From here you can turn south and visit Venice before looping up to Zermatt, having a ride on the Glacier Express train as far as Chur, and then on to Zurich.
Alternatively you could look east from Vienna. The closest European capital to Vienna, Bratislava, is mainly of interest to those ticking off a list of countries, but beautiful Budapest is a three-hour journey from the Austrian capital. After a few days here hop on a night train to Krakow in Poland, then on to Prague in the Czech Republic. Lastly, a pleasant way to spend a couple of weeks is to explore eastern Switzerland and central and western France. This is best done by picking a lake or an Alpine town which you like the look of - Neuchatel, Geneva or Lausanne for example - and after using that as a base continuing east to Lyon or north to Strasbourg, then taking advantage of fast trains to reach Paris quickly. Here's one place you should overdo everything that's good about travel - art, food, shopping and walking - before heading back to Zurich.
Hopping around the US
My husband and I (early 50s) are doing our third big OE starting mid-February and plan to go to the UK via the US, visiting friends and family. Have you got any suggestions on how we travel within the US? We fly into LA and will also visit San Diego, Dickinson (near Houston), Cambridge (Massachusetts) and New York. We plan to spend about six weeks here and then fly on to London.
Christine Ryan
Lonely Planet's US Travel Editor Robert Reid writes:
That's too much ground to cover by bus - cramped conditions, endless stops - and there's too much to see to just fly. With a USA rail pass, Amtrak would be an interesting way to connect your dots and make a few fun stops. One pass allows you to go on eight "segments" (based on Amtrak's sectioning of the country) in 15 days for $389, or 12 segments in 30 days for $579. See LA and San Diego on your own - perhaps with rental car - then start your train pass going west on the Sunset Limited or Texas Eagle from LA and stop 11 hours later in Tuscon, Arizona for a couple nights.
Ask your friends in Dickinson, Texas to meet you in San Antonio for a couple nights of its famous Mexican markets, river walk and Alamo historic site, and continue back to Dickinson in their car. From Houston, continue 10 hours on to New Orleans. Take in the Bourbon Street scene, perhaps chipping in a day to help build homes with Habitat for Humanity (habitat-nola.org), then detour north on the City of New Orleans train along the Mississippi river for eight hours to Memphis (for Sun Studios - where Elvis first recorded) and Graceland (where Elvis last breathed) and on 10 hours to Chicago for a couple days building-spotting in the Loop, seeing the expanded Art Institute of Chicago and getting your feet wet at the sea-sized Lake Michigan.
From Chicago finish the train pass with a 21-hour ride through the Midwest on the Lake Shore Limited to New York City; if your train pass is done, it's a cheap, easy ride to Boston and Cambridge on local buses such as the popular BoltBus.
This week's winning letter is from Christine Ryan who receives a copy of Lonely Planet Mexico ($65).