Air NZ is a national treasure yet it has to deal with a barrage of unfair accusations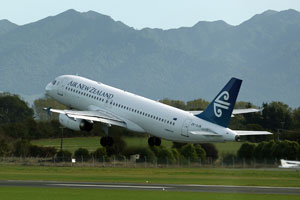 I won't fly on a budget airline. For the sake of saving a few, or even a few score, dollars I'm not going to trust myself in an alien dimension to el cheapo operators.
If I buy a budget seat on a budget airline, then it stands to reason that I'm buying into a budget airliner with budget fittings and equipment, budget staff and budget service, budget training and budget maintenance - in two words budget safety.
Whether I'm rocketing through the atmosphere in a 380-seat jet-powered metal tube flying more than 10km above the earth at nearly 1000km/h, or at half that speed and half that height in a 19-seater turboprop, I want to be sure that no expense has been spared to ensure my safety and comfort.
I need to know that the men and women sitting up at the sharp end are as well trained and as fully experienced as it is possible for them to be, and that the cabin staff, too, know exactly what they're doing in any circumstances.
I'm not a nervous flyer. In fact, the smaller the aeroplane the better I like it. These days the best I can do is Air NZ's Beech 1900D, the neat little aeroplane that plies its trade between Rotorua and Auckland.
Air New Zealand is my airline of choice. There are a number of reasons for that and one of the most telling is that it is our national airline.
It proudly carries our banner into and out of 25 of the world's airports in 13 countries - and does it so well that it is highly regarded in the aviation and travel communities, and has won 30-odd corporate and personal awards in the past few years.
But even more important is that Air NZ's domestic aircraft fly in and out of 26 cities and towns, providing a travel network for Kiwis that no one else could, or would, supply.
From Rotorua I can fly direct to Auckland, Wellington and Christchurch, and from one of those destinations to pretty much anywhere in New Zealand I choose - places such as Invercargill, Westport, Blenheim, Nelson, Wanganui, New Plymouth, Napier, Gisborne or Whangarei.
It's one of those things, I guess, that we take for granted, but just imagine how it would be if, any time we wanted to go anywhere, we had to go by road.
Air NZ operates 99 aircraft which, in the last financial year, carried a total of 12.4 million passengers - 7.8 million on domestic routes and 4.6 million internationally - on 181,110 local and 27,942 overseas flights.
These range from a 25-minute Wellington to Blenheim hop across Cook Strait, to a 14-hour, 11,571km flight from Vancouver to Auckland.
Air NZ is, in my view, one of New Zealand's best-performing companies. It might not be all that profitable or attractive to investors, but in terms of the services it provides it is indispensable.
It spends more than $100 million a year in marketing New Zealand and itself to the world; its philanthropy fund supports more than 40 charities and hundreds of charitable requests each year; and since its recapitalisation of $885 million in late 2001 it has returned a total of $370 million to the Government, which owns 82 per cent of it.
So I'm damned if I'm going to patronise an overseas-owned budget airline that invades the country to try to skim the cream off the heavily trafficked routes, and leaves the local outfit to do all the hard yakka.
What I can't figure out is why Air NZ so regularly has to wear brickbats thrown from various directions.
Last month it came from Waitemata road policing Superintendent John Kelly, who alleged in a memo to Police Headquarters that there was "an apparent drink-drive problem" in Air NZ.
He based his opinion on the fact that four airline staff have been apprehended for drink-driving over a three-year period, one of them four times. Considering that Air NZ has 12,000 employees, that is ridiculous.
But it is typical of the mindset of too many policemen who are obsessed with abolishing drink-driving altogether, when they have as much chance of achieving that as we have of getting rid of the last rabbit or the last possum.
Air NZ chief Rob Fyfe promptly put Mr Kelly in his place, but how much damage was done? The irony is that Air NZ has one of the most comprehensive and successful programmes for dealing with staff alcohol problems of any company in the nation.
Then there were the details of a cabin crew manual published last weekend which raised the ire of the Tongan community because it suggested that Tongans "drank the bar dry" on flights.
Tongan leader Melino Maka reckoned the airline was "trying to portray that Tongans are uncontrollable alcoholics". Nonsense. What he should be concerned about is the fact that twice as much alcohol is consumed on flights to and from Tonga as on any other service flown by the airline.
Why so many are so ready to take a crack at Air NZ I have no idea. But I do know that when I fly commercially, the aircraft will wear a koru on its tail.