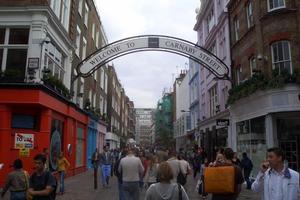 It was the hub of the Swinging 60s, dressed the likes of Jimi Hendrix and inspired hit songs.
London's Carnaby St - the place to be seen when the Beatles, Rolling Stones and The Who were topping the charts and pounding its pavement - is celebrating the 50th anniversary of its heyday.
Carnaby Street: 1960-2010 brings together photographs, outfits and memorabilia in a book and free exhibition documenting the iconic thoroughfare that has been so influential in shaping British style and music.
One outfit featured in the exhibition at No38 Carnaby Street is a psychedelic dress made of paper. As Australian co-curator Judith Clark said, "It was all about disposable income and disposable everything. You'd go to Carnaby St every Saturday and buy a new outfit. They weren't clothes to keep or be handed down from mother to daughter or father to son."
That's in contrast to Savile Row, just a stone's throw away, where bespoke men's suits cost thousands and last for years.
Clark's colleague, Amy de la Haye, said the Carnaby St set's penchant for throwaway fashion made gathering artefacts for the exhibition tricky. "The stuff produced was hard to get hold of, like postcards. It wasn't something people valued."
The Carnaby St history dates back to 1665, when it was the site of one of the first "pest houses" or hospitals for victims of the Great Plague. A century later, visionary artist and poet William Blake apparently lived there. But it was in the late 1950s, when Scot John Stephen opened his first clothing store at No5, stocking fashionable and affordable items, that the buzz began.
By 1966, The Kinks were singing about "the Carnabetian army" in Dedicated Follower of Fashion.
Pete Townshend, of The Who, fondly remembered the street's heyday and his thoughts are recorded as part of the exhibition.
"Carnaby St was home to a club called The Roaring Twenties," he said. "That was a Jamaican place that played Blue Beat stuff through huge speakers, and young men in desert boots and short macs with pork-pie hats danced, rocking their heels back and forth. That was Carnaby St at night. In the daytime it was where we bought slim strides and pink tab-collar shirts."
These days, Carnaby St is home to modern clothing stores and cafes with 60 per cent of the shops independently owned.
Fashion historian de la Haye said Carnaby St was modern but had remained true to its 1960s values. "While it's moved with the times, you can still eat, drink, shop and find something a bit different but you're not paying couture prices," she said. "In more recent years, it's been more forward looking so it's drawn on its past but not in a nostalgic way. You can go to any high street up and down England and you wouldn't know what city you were in, but if you're in Carnaby St, you know you're in Carnaby St."
The exhibition runs until April 10 but Carnaby St will be there forever.
- AAP