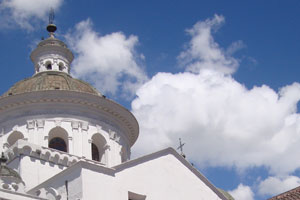 My partner (who lives in the UK) and I are planning to meet up somewhere in South America for a fortnight over the Easter break this year. We're in our late 20s/early 30s, on a budget, and want a mix of outdoor and cultural activities, plus any particularly interesting Easter celebrations, what city would you recommend?
Amelia Sharman
South America, with its deep Catholic roots, has impressive options when it comes to Easter celebrations. The colonial town of Ouro Preto in Brazil hosts dazzling processions over streets blanketed with colourful sawdust paintings, while the Andean city of Ayacucho, Peru, boasts 10 days of celebration. Our recommendation, however, is Ecuador, which celebrates Easter with particular fervour. Owing to its small size (slightly larger than New Zealand) and geographic and cultural diversity, the Andean nation makes a fantastic setting for a two-week holiday.
Two Ecuadorian cities host spectacular Easter weeks, and both rival each other in natural beauty, with historic colonial centres that have been declared Unesco World Heritage Sites: Quito, the capital, and Cuenca in the southern highlands.
Each of these cities is situated in the Andes, with good opportunities for hiking and outdoor adventures, though Quito wins out for museums and other cultural attractions, dining and nightlife.
Semana Santa (Holy Week) in Quito takes place in the streets of the Old Town, which is sprinkled with stunning cathedrals dating back to the 16th century.
Its plazas and cobblestone streets host events throughout the week, including the Good Friday procession when devotees dress in purple robes with matching conical hats, while penitents carry crosses on their shoulders as "Roman soldiers" complete the pageant by flogging them.
Also coinciding with Holy Week is the Sacred Music Festival held inside Quito's majestic churches, while fireworks and outdoor concerts add to the excitement. If you can tear yourself away from the Easter activities, there's much more on offer, including the Museo del Banco Central, the country's largest collection of pre-Colombian art, as well as the Capilla del Hombre, which houses the evocative works of Oswaldo Guayasamin, one of Latin America's greatest painters.
Yosemite in spring can be spectacular
We're travelling to a family wedding in San Francisco next April with our two children (aged 1 and 3). We are planning a busy first week around the city, and would like to spend the second week of our holiday somewhere more low-key, maybe coastal California, or even Mexico. Can you recommend a suitable destination for kids that age?
Kate Doherty
John A. Vlahides, author of Lonely Planet's guides to California and San Francisco, writes:
You're coming to California at the perfect time of year: spring. The hills will still be green, the wildflowers popping and the days warm, not hot. I recommend sticking to Northern California. The kids are too young to remember Disneyland, and the seven hour drive to Southern California is not an easy journey with little ones. As for Mexico, you'd have to fly: most American car-hire companies don't allow their vehicles to cross the border.
Save the airfare, hire a car and stay within four hours of San Francisco. You have two choices: mountains or coast. I'd do both.
The waterfalls positively roar at Yosemite National Park in April, and the last two hours of the four-hour drive pass through gorgeous landscapes in full bloom. Spend two or three nights in Yosemite, then four nights on the coast to relax and unwind.
In Yosemite Valley proper - the heart of the park - choose a bare-bones-basic cabin with bath in Curry Village, or a more expensive motel-style room at Yosemite Lodge. Unless you're on a tight budget, I don't recommend cabins without bath at Curry Village, as you'll have to trek to a shared bathroom, nor do I recommend the canvas-sided tent cabins, as they have no sound insulation and get chilly at night. Reserve at yosemitepark.com and, if everything's full, check daily for cancellations; they happen often.
If you're willing to drive 30 minutes to reach the valley, there's a terrific family-friendly cabin resort called Evergreen Lodge (evergreenlodge.com), tucked beneath towering pine trees on a mountain ridge. Picture clean and simple wood-sided cabins, with heat and en-suite facilities, surrounding an old-fashioned lodge of giant timbers. Evergreen hosts numerous family-friendly activities and offers massages - a nice treat. The only drawbacks are distance from the valley, and the potential for snowy roads en route, as the lodge sits at a higher elevation than the valley.
My favourite place on the California coast is Mar Vista Cottages (marvistamendocino.com). All 10 of the immaculate, vintage-1930s vacation cottages are outfitted with everything you need - delicious beds, comfy reading chairs and full kitchens - and nothing you don't need (read: no TVs, no telephones). Think retro-cosy retreat. Rates hover around $200 a night, but you'll save on food by cooking in your cottage.
If you choose to house-swap, get a map and locate Mendocino in the north, and Big Sur in the south. These are your boundaries - and, lucky you, they bookend some of the most spectacular coastline in California. For more ideas, check out Lonely Planet California, Lonely Planet Coastal California, and my Northern California website, 71miles.com.
This has been chosen by Lonely Planet as the letter of the week so Kate Doherty will receive a copy of Lonely Planet's Coastal California.
Glass class in Murano
I would like to study glass fusing in Italy, specifically on the island of Murano. Can you tell me where there is a class I could take?
Cheryle Gail
Alison Bing, author of Lonely Planet's Venice City Guide & Venice Encounter, writes:
It's a good thing you asked this question now instead of a few centuries back, when it would have branded you a spy. Back then, glassblowers were forbidden from revealing trade secrets or even leaving the tiny island of Murano without the express consent of Venetian authorities upon penalty of assassination. But even these drastic measures were no match for wily French spies who picked up key Muranese glassblowing techniques. As a result, you'll find numerous apprenticeships for beginning glassblowers in the south of France.
Murano doesn't specifically cater to novices. Murano glassblowers invite visitors to their studio-showrooms to watch them in action. But fusing glass is among the easiest techniques to learn, and you can pick up the basics in a short course. Unfortunately, finding a master Murano glass artisan willing to drop lucrative chandelier commissions to teach elementary techniques is like trying to find a Michelin-starred chef willing to explain how to boil an egg. All these factors make Davide Penso is a rare find: an acclaimed glass artisan born and raised in Murano who generously shares his kiln and his expertise in three-day beginner intensive courses, offered monthly in English (see davidepenso.com).
Breaking from the Murano tradition, Davide incorporates fusing and Murano lamp-working techniques to create the strikingly modern glass jewelry featured on his website.
His hands-on workshops cover design, safety measures, classic and innovative Murano techniques incorporating filagree and gold foil, plus marketing your finished work.