This article was first published prior to the November 2016 earthquake so some details may have changed. Please check with local tourism providers for the latest information.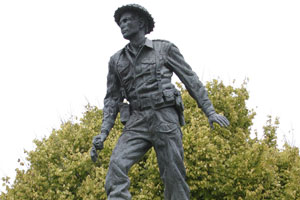 The imposing spirit of New Zealand's greatest soldier, Charles Upham, dominated the second leg of my rail trip on the TranzCoastal.
Not long after we left Kaikoura en route to Christchurch we came to the isolated farming district of Hundalee, on the banks of the Conway River, which is where Upham purchased a sheep farm when he returned from World War II with his double Victoria Cross.
The people of Canterbury had raised 10,000 to buy their hero a farm but Upham, an intensely private man, declined and asked for the money to be put into an educational trust. He got one of the rehab loans available to all returned servicemen, bought a block without even a house, and over 41 years transformed it into an excellent farm.
Our journey continued through the town of Amberley, headquarters of the Hurunui District, where a statue of Upham in full battledress stands outside the district council offices.
On the outskirts of Christchurch the railway runs right alongside St Paul's Anglican Church and the graveyard where Upham was buried in 1994.
And, of course, Christchurch itself, the end of our journey, is where Upham was born, at 32 Gloucester St, educated at Christ's College, on whose board he later served for 20 years, and lived his last months when ill health finally forced him off his farm.
Plenty of places along the route are associated with other notables.
Kaiapoi is where Labour prime minister Norman Kirk made his first foray into politics, becoming the country's youngest mayor at the age of 30, in 1953.
The district of Dommett commemorates Alfred Dommett, who produced a lot of verse, most notably the epic poem, Ranolf and Amohia, and served as premier in 1862-63.
Nearby Phoebe was named in honour of a daughter of Richard John Seddon, the country's longest-serving prime minister.
The farming district of Mina was apparently given its name by early runholder William "Ready Money" Robinson, after one of his five daughters.
And local legend has it that Robinson proposed calling a nearby area after another daughter but she objected, saying "No, not I," and so it became known as Nonoti, the name it bears today. That sort of information provides an amusing way to pass the time on a train journey but on this leg of the TranzCoastal plenty of other entertainment was on offer.
Some was provided by other passengers. Such as the little girl, who obviously took on board a safety announcement from the train manager, and when her mother stood up to head to the toilet announced in a loud, piping voice, "Mummy, never, ever, don't use the handles or your fingers will be squashed in the door".
But mostly it came from the marvellous scenery. For the early part of the journey this involved glorious seascapes to the left and snowy mountains to the right, with long, dark tunnels in between.
We emerged from one tunnel just outside Kaikoura to have the train manager draw attention to a coastal rock formation rather confusingly called Spyglass. "It was named by Captain Cook 250 years ago because there was a hole in the rock but the top fell in three years ago."
Another tunnel led to Barney's Rock, named after a whaler who supposedly stood on top, looking for southern right whales, signalling his men with smoke signals whenever he saw one. And the Haumuri Bluff tunnel, at just under 1km the longest on the line, led to the spectacular Okarahia Viaduct, stretching 115m across a classic South Island stream, with pale blue glacial water running in interwoven strands over a vast shingle flood plain.
At Claverley the railway turns inland, following the Conway River through picturesque gorges to the Canterbury Plains. Here, of course, the dominant landscape is of green hills and white lambs, though a couple of times black and white calves were seen, set scampering by the TranzCoastal's warning whistle, and at Waipara the grassy plains were replaced by endless fields of grapes.
We also had many rivers to cross, perhaps the most charming sight being at the Waimakariri River, where an elderly couple sat in deckchairs in the middle of the flood plain, fishing.
As we closed in on Christchurch, pretty gardens sprang up either side of the line. At Mona Vale was the puzzling sight of two attractive models in short black dresses kneeling alongside the tracks with glasses of wine. And from time to time there were appealing glimpses of the lovely River Avon.
It was easy to see why Christchurch was named the garden city ... but this image was rather let down at journey's end by the unappealing Christchurch Station, built in 1992 on the site of the once mighty Addington Railway Workshops, so the original station in the town centre could be sold off.
As the Canterbury Shuttles driver said as he drove us into town to our hotel, "It was a big mistake. It's too small and it's miles from anywhere. People are always complaining about it when I pick them up."
Next week: Punting in Christchurch in rain, climbing the Southern Alps in sunshine.