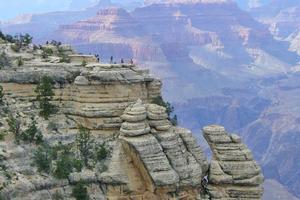 We are two older adults travelling to the US in early April and hope to stretch our visit to three months. To keep the costs down we might hire a small car and travel inland up to the Canadian border and back down along the Pacific coast visiting the various National Parks. Can you advise us on low-cost car hire and low-cost accommodation?
Dorine
Two months is an excellent length of time. This will give you time to explore some of the most beautiful parts of the US. Stay off the main roads and take the myriad two-lane highways that web the west. Highways 93 and 20, for instance, are a gorgeous route from the Grand Canyon north to Yellowstone. From Seattle south to LA, stay on Highways 1 and 101 for one of the world's most beautiful trips. You can easily spend well more than a week exploring the little towns and stunning natural scenery along the coasts of Washington, Oregon and California (for reference, driving on major interstate freeways from Seattle to Los Angeles, 1500 miles, takes only two days). Misty redwood forests and the popular Big Sur and Hearst Castle are just some of the highlights. Little places like Bodega Bay - where The Birds was filmed - will beguile.
Weatherwise you've picked an ideal time. The desserts of the south will still be comfortable in May while the long winter will be gone from Yellowstone in June. You should be able to find good deals on a two-month car rental. Check sites like kayak.com and hotwire.com for a range of quotes (US$20 [$29] or less per day). Get the smallest car offered so you can enjoy good mileage and check to see if your credit card or insurance will obviate the need for extra insurance coverage. If so, you'll save US$10 or more per day. For accommodation, you won't find many backpacker hostels outside of San Francisco, but you will find plenty of smaller, older family-run motels. Don't hesitate to check out a couple of rooms (US$50-60 per night) and ask for discounts. At the time when you are travelling, reserving won't be necessary, except in San Francisco.
Great migration a must-see
I have for a long time been interested in the great animal migration, where up to a million animals cross the Mara river in Kenya; what some say is one of the seven wonders of the world. I would be grateful for knowledge on when this occurs, and relevant details.
Ian Foreman
David Lukas, author of Lonely Planet's A Year of Watching Wildlife, writes:
Every year, usually in May, the vast herds of grazing wildebeests, zebras, and gazelles that gather by the millions on Tanzania's Serengeti Plains must contend with a coming dry season and the withering of edible grasses and leaves they depend on. In response, nearly two million animals begin an arduous and dangerous journey northward, across the border into Kenya, in search of lush grasses and sources of water. They travel on a long, circular route that these animals have followed for millennia, creating one of the greatest wildlife spectacles on the planet.
What makes this journey so exciting for visitors are the numerous predators, including lions, cheetahs, and leopards, attracted to these "meals on a hoof" and their tasty, new-born babies. But nowhere can visitors expect such a high level of energy and excitement than at the narrow river crossings where wildebeests bunch up and make mad dashes past 5m long Nile crocodiles that lie waiting below the water's surface. The frantic crossings of the wildebeests and the explosive lunges of hidden crocodiles rocketing out of the water are heart-stopping, exhilarating or tragic, depending on your point of view, but there's no doubt that this is one of the premier sights in East Africa.
Unfortunately every other visitor and safari company knows this as well, making the river crossings pretty darn busy intersections of prey animals, predators, and watching minivans. On the plus side, however, the constant updates among tour operators makes it almost impossible to miss these somewhat unpredictable river crossings as the herds speed up or slow down between various northbound crossings on the Grumeti River in Tanzania and the Mara and Talek Rivers in Kenya in June or July, and their return crossings sometime in October. Your best option is to speak with a local tour operator or lodge to see what they're telling their clients about the migration's progress and to try to plan accordingly, with the idea that you can swing north or south to meet the great herds wherever they are on their giant loop. It is often pointed out that the migration is always going on, it's more a matter of locating the animals wherever they are at that particular moment.
Win a Lonely Planet guide book
Get the information you need to make your big trip a success. Email your travel questions to travel.info@lonelyplanet.com and they'll be answered by Lonely Planet's experts. In addition the best question each week will earn a Lonely Planet guide book.
To give yourself a chance to win add your postal address and the guide book you'd like to receive. You can find out about Lonely Planet books at LonelyPlanet.com. Not all questions are necessarily answered and Lonely Planet cannot correspond directly with readers, or give advice outside the column.