Kerri Jackson soaks up the historical and modern delights of Bath.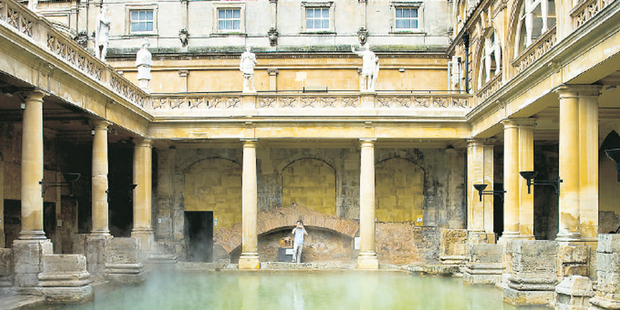 The view from my bath is really quite outstanding. On three sides there are panoramic views of Somerset's rolling emerald-green hills, interrupted only by the chimneys and shingled roofs of Bath's famed Georgian buildings.
This is no ordinary bath. This is a bath in Bath. This is a bath with history. By wallowing in the waters of the rooftop pool at Thermae Bath Spa, I am, happily, continuing a tradition that dates back at least 2000 years. Possibly many more. Archaeologists have found evidence of human activity around the hot springs here (the only ones in Britain), dating back to about 8000BC.
It's oddly cosy to think of some some ancient chap stumbling across the warm waters bubbling out of the ground and deciding soaking in it wasn't a bad way to unwind at the end of a long day.
But it was the Romans who, early in the ADs, founded the settlement we know as Bath, building it up around a temple and elaborate public baths. And today this picturesque city, 180km west of London, has become a well-balanced trifecta of ancient, elegant and modern.
It's most famous tourist attraction is, of course, the excavated Roman Baths which lie at its heart.
But standing in the square outside that building, you see others which together form a mini timeline of the city's history. There's the imposing elegance of the medieval Abbey, built in 1499, the charm of the Georgian Pump Room where Jane Austen's peers would come to sip spring water for their health, and just a block away, beyond the modern high street retailers, is the very 21st-century Thermae Spa.
Its Roman forefather, though, is the logical place to start any visit to the city, as without it, Bath, a world heritage site, may never have been.
The Roman Baths as they stand now is one of the most unique, informative historical sites in Britain. There are remnants of ancient steam rooms, remainders of the gender-segregated baths, and hints of the various facelifts the site has lived through in the intervening 2000 years.
Along the way comprehensive history lessons can be had via your headset; facts, figures and historical accounts now padded out with comment and insight from legendary travel writer Bill Bryson. It all makes the emerald-green steaming water very inviting. But for swimming we need to head back to that rooftop pool.
While the original baths site is now reserved for tourists rather than bathers, the chic and modern Thermae Bath Spa is the perfect quencher for those bathing needs.
The bathing and therapy complex opened in 2006, ending an almost 40-year drought of public spring-fed hot-water baths in a city whose history is built on them. But this one was worth waiting for.
The main Royal Bath complex is several storeys of pampering bliss. Though it is a public space the facilities are those of a high-end private spa. Here you can soak either in the downstairs Minerva pool, where water jets will pummel all the stress from your body, or wallow in that rooftop pool-with-a-view.
In between are treatment rooms for massage and other therapies, and the excellent steam room floor - four steamy glass capsules infused with different essential oils, all situated around a central waterfall shower. On top of that there's also the hot pool, used for spa treatments and therapies, and across the road in its own separate building, is the beautiful Cross Bath, which can be hired out for private groups. Here you can see the spring water bubbling out of the ground poolside in the beautiful Divine Influx fountain sculpture.
The whole complex is remarkable in the way it blends history with modern practice and still pays tribute to a balance of medicinal and spiritual which first drew the Romans, and their predecessors, here. Dried off and back on the street, though, you are instantly reminded that while Bath may have been founded by the Romans, it is a Georgian city. It was the waters that brought England's elite here in the 18th century and the city flourished.
In the central area the buildings are almost entirely Georgian and hewn from the beautiful buttery-coloured Bath stone. Its uniformity lends it an elegance and timelessness. Even amid modern hustle and bustle, it is easy to imagine Jane Austen plodding the streets, possibly a little crabbily, since, though Bath now loves her for the tourists she brings, Austen did not love Bath.
But if Austen is what has brought you to Bath, there is much to satisfy. First stop should be the small but informative Jane Austen Centre. Even if you're not a devotee of the author it's a good place to understand what life was like in the city's defining era.
From there you can immerse yourself in all things Georgian. Start at the Assembly Rooms, which reek of a once slightly snooty elegance, and today are still the site of regular concerts and exhibitions.
From there head for the famous Royal Crescent - a perfect Georgian arch of homes, designed by John Wood the Younger, majestically overlooking Royal Victoria Park. The Crescent is now home to a hotel and businesses but Number One Royal Crescent has been preserved as a museum, showing the house as it would have been in the 18th century.
From there, pass back through the circular Circus, designed by John Wood's dad "the elder", as what some suspect to be some kind of Masonic symbol. Expect to see it in a Dan Brown novel any time now. It is a quite extraordinary building though and one which reminds you this is a city quite unlike any other.
IF YOU GO
Getting there: Bath is an easy 90-minute train ride from London Paddington or you can drive via the M4/M5 motorways. Cathay Pacific has daily flights to London from Auckland via Hong Kong.
Where to stay: Dukes Hotel is in a restored five-level Georgian townhouse. Each room is beautifully fitted out with period furniture, it's an easy walk to town and most attractions, and the railway station is a five-minute taxi ride away.
Where to eat: Celebrity chef, Jamie Oliver has opened Jamie's Italian in Milsom Place. But for something more in keeping with historical Bath, you could try Sally Lunn's, home of the famous sticky bun, and the city's oldest building, built in 1483. If you want to go Georgian, you can't go past the Pump Room, next to the Roman Baths. Booking is essential.
What to do:
* Visit Thermae Bath Spa.
* For an alternative take on Bath's history, take the Bizarre Bath Comedy Walk, which departs from outside the Huntsman Inn every night at 8pm.
* Be sure to spend some time wandering through the Parade Gardens towards Pulteney Bridge and beside the River Avon. There are also a number of canal boat operators who can take you for tours on the water. The Kennet and Avon Canal runs through the centre of town and will this year celebrate its 200th anniversary with a street party in Widcombe on June 13.
* For the only view in Bath to rival that of the Thermal Spa rooftop pool, climb the 212 steps to the top of Bath Abbey tower. Tours run every hour Monday to Saturday.
Further information: See visitbath.co.uk.
Kerri Jackson travelled to Bath as a guest of Visit Britain and Cathay Pacific.