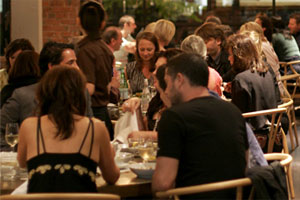 With a napkin already tucked in her collar for next month's Melbourne Food & Wine Festival, Karen Jackson passes the time by eating her way around this food-lover's city.
For a push-the-boat-out meal...
Grossi Florentino, Bourke St
One of the few permanent fixtures in the ever-changing Melbourne restaurant scene, Grossi Florentino first opened its doors more than 80 years ago down the posher end of Bourke St.
Up the red-carpeted stairs in the restaurant itself (at street level is the more casual Grossi Florentino Grill), the dark-panelled walls lined with portraits, the crystal chandeliers and the linen tablecloths might have you struggling to believe that much time has passed.
But Grossi Florentino hasn't ossified into some old-school parody of fine dining. In a city that is surely the most significant outpost of the Italian food culture outside of, well, Italy, this is the original Italian dining spot and it is still, to my mind, one of the best Italian restaurants around.
Serving what's probably best described as "modern" Italian, the food is innovative and high-brow but not terrifyingly so: these are Italian dishes (ravioli, gnocchi, tortellini) that have enough of a twist to be fresh and interesting but are still something you can rely on enjoying.
It is expensive - mains are about A$40 or $50 ($50 - $60) and the eight-course tasting menu is A$265 a person (including wines) - but it's an institution for a reason and worth splashing out on at least once.
Longrain, Little Bourke Street
You might think you know Thai food but, as they say in Thailand, Longrain is something same same but different.
The second branch (there's also a Longrain Sydney) opened in Melbourne in 2005 and instantly won over diners and critics.
A loud, high-energy space (it's actually a former stable) crowded with people and wafting with clouds of garlic, chilli, lime and fish oil, Longrain would be a fun night out even if the food was only up to par.
Since the food was good enough to entirely redefine "good Thai food" for me forever, you really can't go wrong.
Executive chef Martin Boetz produces dishes where the aim is a balance of hot, sweet, salty and sour. So we had a crisp duck salad with sweet fish sauce, green mango chilli and holy basil; a red curry of slow-cooked Angus beef with green peppercorns, wild ginger and Thai basil.
Looking for a romantic meal for two? Then walk on by. At Longrain the dishes are large and for sharing, the seating communal. But this restaurant is a celebration of food and life.
For cocktails...
Madame Brussels, Bourke Street
This self-described "rather fancy terrace and public house" is three storeys up and a world away from real life.
With outdoor loungers and astroturf - and that's inside - and delightful staff in tennis whites and plus fours, the bar gets its name from a body part of a Lonsdale St brothel owner in the 19th century (her nipples were said to be the size of, well, a kind of sprout, surely bringing new meaning to the phrase "healthy and delicious").
In the foodie paradise of Melbourne, it might not be your first choice for a meal (although if you feel peckish, they do a nice line in cupcakes and finger sandwiches). But it's worth visiting for its left-of-centre ambience and sheer whimsical charm.
Be warned, though - there is still a certain louche bohemianism to the establishment - when we visited during last year's food and wine festival there was a naked man manning, shall we say, the barbecue, and the bar manager often gets her riding crop out. But the rooftop terrace gets the afternoon sun, the rose and Pimms are delicious and cocktails are served by the jug. Oh, and in summer there's sometimes a paddling pool.
For something cheap and cheerful...
Bimbo Deluxe, Brunswick St, Fitzroy
This cheerful pub with its flea-market decor and sticky carpet could never be accused of having any pretensions of grandeur.
But it is still worth visiting for the half-price pizzas it offers every night, except Friday and Saturday (when the pizzas are still laughingly cheap at A$6 to $8).
The pizzas aren't gourmet fare, but they are delicious in a hot and filling way and at A$4 each you could genuinely eat here with your partner for less than A$10.
Plus those prices mean crowds of young, poor, arty types are constantly to be seen knocking back infused vodka in the cavernous downstairs spaces and upstairs roof garden: this place offers both a cheap meal and some priceless people-watching.
HuTong Dumpling House, Market Lane, Chinatown
Last year Australian Masterchef judge and food reviewer, Matt Preston, described the dumpling as the "zeitgeist item" on the city's restaurant scene, with new dumpling houses appearing with monotonous regularity over the course of the year.
A new one worth visiting is HuTong Dumpling House, which serves (unsurprisingly) Hutong-style food - there's lots of claypots, rice and offal on the menu. Feel free to ignore those options though and order the dumplings that have made the place famous.
You'll probably spend about A$30 a head (although it is BYO), meaning you can definitely find cheaper dumpling options in Melbourne (try Camy's Shanghai Dumpling House on Tattersall's Lane if you are on a really tight budget). But you won't find better shao-long bao than at HuTong; the broth-filled dumplings with a morsel of meat at the centre are as succulent and flavoursome as anything you'd eat in Shanghai.
Just be aware that you don't come here for the service. You are likely to have to queue and the maitre'd won't let any of you in until all your party has arrived.
Don Don, Swanston Street
Down the university end of town, this Japanese eatery attracts a student crowd, but don't let them monopolise it - food this good, this fresh and this cheap is worth braving a crowd for.
Try the sashi don (basically salmon with pickled ginger and beancurd on rice), where the sashimi salmon is arranged into a rosette (imagine an oversized carved carrot garnish), the buckwheat soba salad is delicious or you can get a generous bento box for between A$6 and $8.
Plus the service is quick, almost astonishingly so (do they know what you're having before you order?).
Don Don has a Lonsdale St branch as well, which is open for lunch only but does offer slightly nicer decor.
Knives out
Some of the world's best chefs will be in Melbourne from March 12 to 23 for the great feast that is the Melbourne Food and Wine festival.
Jamie Oliver, Neil Perry, Nobu Matsuhisa and New Zealander Rex Morgan (from Wellington's excellent Boulcott St Bistro) are among the 25 chefs sharing their skills and recipes at masterclasses and events throughout the festival. It starts with the famous World's Longest Lunch on March 12.
Other key events include the Heat Beads Hawkers Market of delicious Asian dishes at Queen Vic Markets, and the Theatre of Ideas which looks at the future of food with two of the world's edgiest chefs - Massimo Bottura and Andoni Luis Aduriz. And you can see food-inspired art installations dotted around the city, food films, wine appreciation classes and gardening demos at the Edible Garden in the city square.
For a full events listing and details on ticket buying visit melbournefoodandwine.com.au.
Hot deal
Flight Centre has Melbourne holidays, including return airfares and two nights' accommodation, from $535 ex Auckland a person, $719 ex Wellington or $515 ex Christchurch.
Valid for sales until February 14 for travel before March 24, or March 30 to October 27, with some closeout dates. Contact Flight Centre on 0800 427 555 or visit flightcentre.co.nz.