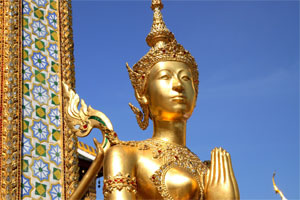 We are planning a trip to Thailand in June-July and were wondering if it is better to be organised and book now or wait? Is it true that there are better package deals closer to the time you plan to travel?
- Donna
China Williams, author of Lonely Planet's Thailand and Southeast Asia on a Shoestring, writes:
Seasoned hagglers suggest waiting two months to 14 days before your desired departure date to cash in on last-minute package deals. The reasoning goes that tour companies start slashing prices to fill unclaimed slots.
It's an attractive theory and it piqued my curiosity about the birth of a package tour. I'm based in the United States so I called Bob Whitley, president of the US Tour Operators Association, about how the industry works and what determines prices. He explained that tour operators make advanced negotiations on prices with hotels, museums, restaurants, local guides and hired transport. These services are bundled, marked up, and sold either directly to the consumer or indirectly through a travel agent.
Unlike air flights and cruises, the nuts-and-bolts of package tours don't experience much price fluctuation. There might be some variation based on the time of the year of travel (high versus low tourist season), the destination's popularity, the commissions charged by a travel agent or the mark-up or an individual tour supplier.
The global recession has also helped whittle away at the prices. But proximity to the departure date doesn't have much of an effect on the price. Most operators, Mr Whitley pointed out, are more likely to reschedule a trip if there aren't enough takers rather than offer last-minute deals.
A call to a local travel agent corroborated this. Perhaps it was just salesmanship but I was also told that booking early yielded better discounts than last-minute ones since hustling for an airfare so close to a departure often ate up the tour savings.
Hope this is a relief to hear that you don't have to "play chicken" with the tour companies. Your travel dates should yield some savings since late June and early July are at the beginning of the monsoon season, a low travel period in Thailand. However, some tour companies begin pricing packages higher for that period because of the impending summer travelling season in the Northern Hemisphere.
As you comparison shop, scratch around for information on the hotels included in the package. When I'm reviewing hotels for Lonely Planet's Thailand guidebooks, I can easily spot the ones that cater to package tourists - dreary mid-rangers with high-end price tags. Check out Lonely Planet's Hotels & Hostels to see if the hotels merit a mention amongst the destination's best. Lonely Planet's various Thailand guidebooks make great travelling companions and can be downloaded by individual chapters if you're only visiting a few spots.
An African overland odyssey
My wife and I are attending a conference in Malta in May 2010 and are enquiring as to access and itinerary suggestions to and in North Africa. We are interested in visiting Leptis Magna, and possibly flying or making our way via a tour across to Egypt, from where we will return to Europe probably to the Baltic area. Your suggestions will be most welcome.
- Christopher John
North Africa, unlike other areas of the continent, is not currently a good place for a multi-country overland trip. The Roman remains of Leptis Magna are in Libya, which if not the pariah state it once was certainly doesn't go out of its way to welcome travellers.
To visit you must be part of an organised tour, either arranged expensively from overseas, or pretty much as expensively from a Libyan travel agency. You also need to get an Arabic translation of your passport, which must be obtained in advance. That said, travellers' reports on the Lonely Planet website's discussion boards suggest that, if using certain Libyan agencies you may be able to make up a group of two and do pretty much as you please.
A little online research should get you a few days in Tripoli and along the coast. It's easiest to fly to Cairo from Tripoli. If you'd rather go overland, you can (and should) arrange to be driven to the border with Egypt.
There are shared taxis on from the border to Egyptian towns. As Libya slowly opens up this information may change, and indeed you may get different answers based on who you speak to, but this is my understanding of the latest situation.
If this sounds a bit like hard work, considering using a Europe-based company like Pettitts, who can tailor-make an itinerary for both countries.
Egypt is much easier to travel around and it's easy to do your own thing. All you need to tackle the land of the pharaohs is a decent guidebook, a thirst for adventure and enthusiasm to get up before dawn to beat the crowds to the major sights.