Santiago is what Auckland should be, writes Jim Eagles.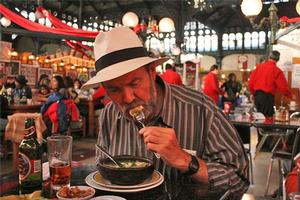 Chomping my way through a great steaming bowl of picoroco - otherwise known as the giant southern barnacle - at Santiago's amazing Central Fish Market was probably the highlight of my 19 hours in Chile.
Then again, barnacles not being everyone's cup of soup, maybe it was watching an amiable confrontation between a powerful team of armed and mounted police and a few hundred enthusiastic demonstrators.
Or perhaps it was just climbing to the top of the historic fortified hill of Santa Lucia and enjoying its special mix of great views, charming history and romantically inclined locals.
The lowlight was having a friend's gold chain ripped off her neck by a trio of scumbag street thieves.
But overall the good far outweighed the bad because Santiago is such a colourful, exciting and pedestrian-friendly city.
In fact, when I start thinking about places I'd like Auckland to emulate, Santiago, with its broad network of pedestrian precincts, street theatre, music and art, amiable atmosphere - despite the thieves - lively history and interesting craft markets has long topped the list.
The latest visit was only a day-long stopover between flights but there was still plenty of fun to be had in-between catching up on sleep.
Wandering around the central city is always a delight, partly thanks to all the interesting things to see, but mainly because it's such an easy city to walk in.
For instance, right in the heart of the downtown area is the hill of Santa Lucia, which serves as a combination historic hilltop fortress, memorial to many of the city's greatest citizens, viewing platform and tranquil park, which is always a joy to visit. The craggy peak is where Pedro de Valdivia, the Spaniard who conquered Chile, formally founded Santiago in 1540 and it is still covered with battlements, towers and arched gateways as though forever ready to defend itself against invaders.
These days, however, most of the invaders are camera-toting tourists or young lovers looking for somewhere quiet, though there is still a cannon, which is fired daily at noon.
Along the winding paths up the hill are fountains and statues, plaques and mausoleums, among them the tomb of the mayor responsible for developing the area as a park. From the summit you get great views over the city and, during a brief period when the smog drifted away I even caught a glimpse of the snowcapped mountains that encircle Santiago.
At the bottom of the hill is the Santa Lucia Artisans Market with stalls selling everything from handmade ponchos and shoes to lucky charms and snail oil cream - good for your skin, apparently - to carvings and ceramics.
Unfortunately, the busy street outside is also where we discovered the advice we got on arrival, "it's not a good idea to display anything valuable like gold jewellery in public", was soundly based. A young man walked up behind one of the women in our group, ripped a gold chain off her neck and took off around the corner, while two accomplices ran interference, waving their arms and getting in the way of any pursuit.
For a moment we thought there was going to be more ugliness further down the street where a phalanx of police was ready for action outside the Presidential Palace.
However, as we watched nervously, the object of all this police attention arrived, a cheerful parade of people carrying photos of some of the disappeared _ those who were eliminated by the authorities during the rule of General Augusto Pinochet from 1973 to 1990 - supported by assorted banners proclaiming allegiance to Marx, Trotsky and the local teachers' union.
Unlike a demonstration a few days later marking the anniversary of the coup that brought Pinochet to power, which turned extremely violent, this one stayed peaceful and most of the marchers dispersed to enjoy a concert in the square opposite the palace.
Meanwhile, we dispersed to the Paseo Ahumada, one of the wonderful pedestrian malls running through the heart of Santiago, enjoying a stroll past a delightful mix of buskers and pavement artists, icecream vendors and the Cafe Con Piernas (otherwise known as "coffee with legs" for its beautiful mini-skirted waitresses), an outdoor art market and some lovely chamber music in the cathedral, men in long coats flogging fake watches and old women in scarves selling lottery tickets.
This led us happily to the Mercado Central, a magnificent wrought iron market building on the banks of the Rio Mapocho, where you can buy - or so it seems _ every kind of seafood in the world and where I was hoping to find the picoroco.
I had heard of this culinary delight while I was in Quito, the capital of neighbouring Ecuador, from Klaus Fielsch, the expedition manager of Metropolitan Touring. When he learned my next stop was Santiago he became very excited.
"Do you like seafood?" he asked.
"Do you like crab and lobster and scallop? Then you must go to the fish market and ask for picoroco, the southern giant barnacle, which tastes like a combination of all three. It is superb. And the market is the only place you can buy it."
I studied the huge menu at one of the many seafood restaurants in the market and there it was: Picoroco. So I ordered a bowl of barnacles. They were huge and there were a lot of them. I think I can say the others at the table were impressed.
Unfortunately - and please don't tell anyone this - they were full of sand and not very tasty. Naturally I smacked my lips and pretended it was delicious. But I won't be ordering giant southern barnacles again.
CHECKLIST
Getting there: LAN Airlines flies daily from Auckland to Santiago with onward connections through South America.
Getting around: Santiago is the gateway city for many of World Journeys
' travel packages in Chile, including a 5-day/4-night Chilean Coast & Wine Valleys package, which includes three nights in Santiago with city tour, two days along the Valle de Colchagua wine route with tastings, and a full-day excursion to Vina del Mar and Valparaiso on the coast. Contact World Journeys on 0800 117 311 for more information.
Further information: See santiago.cl.
Jim Eagles went to Santiago with help from Lan Airlines and World Journeys.