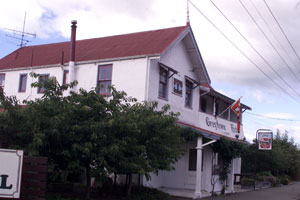 Antique stores and yummy cafes line the Victorian-styled main street, the far-away hills only slightly blocking the warm sun beating down on the small town.
Greytown has long been a favourite holiday spot for many Kiwis and a stunning destination point for tourists looking for the clean and green New Zealand image splashed around the world.
Tucked in the Wairarapa - about 80km northwest of Wellington - at the bottom of the North Island, it is the only place left in the country with a complete street lined with Victorian buildings.
The local orchards, antique stores, boutiques, cafes and specialist stores - including a new icecream parlour and a French bakery - have added extra pizzazz to the village centre.
Margie Abbott, who works at an antique store and has lived in Greytown for the past 10 years, says the place has long been a secret holiday spot not just for Kiwis but tourists too.
"If you like remoteness and rocks and sea and emptiness then you'll love it here. The summers are hot and long, and even in the winter, when it's cold, it's always beautiful here, with fires burning and hot soup," she says.
"The coast is beautiful - you can go out there and won't be able to see anybody for miles. The place is just gorgeous."
The fine dining and wine - from the many vineyards in the area - also make for a pleasant holiday and are key factors in continually drawing in the crowds, Mrs Abbott says.
"There's always beautiful breads and bagels in the morning and lovely wines for dinner."
The town's rich Victorian architecture and history are still evident around the small town, including the Wakefield Antiques store, built in 1891, the Greytown Town Hall (1907) and the Greytown Hotel.
The hotel is one of New Zealand's oldest hotel buildings, having opened in the mid-1800s.
Named in honour of the Governor at the time, Sir George Grey, Greytown has been home to many a festival, including music concerts, art exhibitions and the Greytown Arts Festival - an annual event which brings in artists and musos from all around the Wairarapa.
Mrs Abbott says the town's bed and breakfasts, cottages and scenic landscapes have made for a somewhat intimate place and have led to many couples choosing to wed there.
"There's the Lavender Cottage, with brass beds and beautiful settings for a romantic weekend," she says.
"There's hot-air ballooning, white-water rafting, 4WD adventures. It's just a beautiful get-away."