In the third of our series, Alanah May Eriksen recalls her family's flight from a storm-battered camping ground.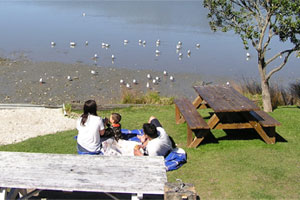 Having to sleep under a table in a packed cabin after Cyclone Drena forced us from our wind-rocked campermatic was an adventure for a 9-year-old.
My 7-year-old sister Brittany and I had no idea how scared our mother had been fleeing the Ohiwa Family Holiday Park with us and our baby sister in the middle of the night.
The Eastern Bay of Plenty beachside campground was full of frantic campers heading for dry spaces on January 10, 1997.
The ferocious storm - which followed Cyclone Fergus two weeks before - had already wreaked havoc on the Coromandel, killing a man who was electrocuted by felled power lines, flooding homes and washing away big chunks of the road.
Our dad had gone back home to Rotorua for a couple of days to do some work, leaving mum and us three kids in our 20-year-old campermatic.
I woke about midnight to crashing and banging. The campermatic was shaking furiously and I could hear muffled voices outside.
Mum was already up holding 11-month-old Grace and packing all her baby things to prepare for our escape.
We hadn't packed any wet-weather gear so a light jumper over our pyjamas had to do. Mum told us to hold on to one another, and hurried us out.
Outside, tents were already flattened, thick branches had fallen and campers were rushing around gathering their belongings to escape.
Some people had packed everything into their vehicles in an attempt to brave the storm and drive home.
Brittany and I thought it was a great adventure, being pushed around by the gusts of wind, splashing through the sometimes knee-deep puddles in our Jandals, picking up various pieces of camping equipment strewn across the soggy ground.
But Grace wasn't as keen on the loud noises and the wind in her face and her howls let us know about it.
After walking up a small hill, we spotted a bach in the distance with its lights on and headed towards it.
When we got to the door, at least 25 people had already crowded inside the tiny haven but the owners happily invited the stressed mother and her three young children to take shelter.
A woman handed Brittany and me a blanket to share and told us to nab the free bit of floor space under a plastic table to get some rest.
A man gave up a top bunk for Mum and the baby, whose cries had by that stage lowered to a slight whimper.
In the morning, the sun was out and we were ready to go for a swim.
Our trusty campermatic had survived the cyclone and we found our deck chairs and sun umbrella, which had blown a few metres from the campsite.
Dad hurried back to check we were all okay, and he and Mum decided to stay on as the weather had picked up.
But two days later, all five of us came down with a vomiting bug which - to Brittany's disappointment and mine, too - well and truly ended our eventful camping trip.