Phoebe Falconer checks out another great summer holiday place within an hour's drive of downtown Auckland.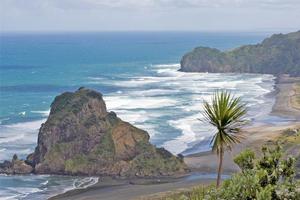 What: Piha Beach
Where: West of Auckland, at the foot of the Waitakere Ranges.
How to get there: From the city, take the Northwestern Motorway to the Great North Rd offramp. Follow Great North Rd to Ash St, go on to Rata St, then follow Titirangi Rd up to the village.
Take the second turn at the roundabout, signposted Piha and Scenic Drive. At Waiatarua, take the low road to Piha.
Cost: Access is free.
What to take: As much or as little as you like. There is a store at Piha, and a new cafe, but there is no petrol station. Hats, sunscreen and shoes for walking on the beach are a good idea.
Things to do: Swimming (between the surf life-saving flags at all times, and watch out for rips), surfing, visiting the art and craft gallery, walking and tramping.
Surfing lessons can be arranged at the surf club, which has a bar and meals on Fridays and Saturdays. Fishing is good at Piha, but you must follow the safety rules. Surf club staff will help with these.
Kitekite Falls are close by, and while not large, are very beautiful. Walking tracks provide access to historic sites such as kauri dams.
And, of course, there's Lion Rock, iconic symbol of Piha. It's an eroded volcanic neck dividing the beach into North and South Piha, and is accessible from the beach. It's pretty steep in places, so take care.
History: There were a number of pa of the Te Kawerau a Maki iwi on the Piha headlands, with one on Lion Rock.
The area was bought from Maori in the 1850s and divided up for settlers to farm. Milling kauri trees proved more profitable, and there are still the remains of dams in the hills behind the beach.
In the early 20th century Piha was a popular holiday spot for Auckland residents, with accommodation provided by local farmers.