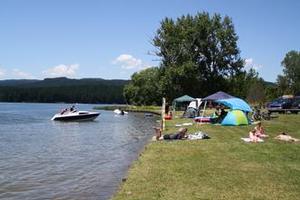 Visitors to the Coromandel say a $40 fine for freedom campers in the region is not ideal, but will do little to deter tourists or those who choose to doss down in beach carparks.
German tourist Susanne Kunkel-Jungk, who with her husband Erich Jungk and friends Martina and Detkef Scheunemann, are travelling around New Zealand in self-contained campervans, thought they should be allowed to pull up near a beach for the night - particularly if holiday parks or campsites are full, as they have found.
"Every day we try about three different campsites and they always tell us they are full," said Mrs Kunkel-Jungk. "It's probably not a good idea to charge when you have a campervan, it is a little bit expensive."
Mrs Scheunemann said they did not know about the by-law passed by the Thames Coromandel District Council in September authorising a $40 fine for anyone not camping in a campground or holiday park.
"It is a pity but this is such a beautiful country and it is a small price to pay."
Yesterday at Whiritoa beach the Herald came across a vanload of German and Swedish backpackers, all in their 20s, who knew freedom camping was illegal on the Coromandel Peninsula but still slept in their van at beach carparks.
"We try to check in to places but so many are full at this time of the year," said Marcus Klein, 24, from Berlin.
"To be honest with you we are trying to save money and have fun, but we don't litter the places we go to and use the public toilets ... this is a better way to see the country."
Trevor Knight, who is the president of the @home New Zealand (bed and breakfast) association and a voluntary Thames Coromandel District Council by-laws officer, said people like Mr Klein were causing problems.
The owner of the Hot Water Beach Bed and Breakfast for about 12 years, Mr Knight said he sometimes awoke to up to see 15 vans at the popular beach's carpark.
He said the free campers were not only causing an eyesore by strewing their washing among the pohutukawa trees but brought associated security and health risks.
"There have also been people just covering their fires with sand on the beaches and we have had a couple of cases where little kids come down to the beach the next day and get badly burned."
Motor Caravan Association president Dick Waters agreed that freedom campers without self-contained vehicles were a problem throughout the peninsula.
But he said those with certified campervans were being unfairly targeted by the bylaw and the dwindling number of campsites meant some of the association's 40,000 members had chosen to bypass the peninsula this summer.
"They (the council) need to target the sector who are causing the problem, all my members are certified self-contained with holding tanks that can go a minimum of three days and leave no waste wherever they go."
Mr Waters said more motorcaravan sites should be made available, as users spent $90 million a year throughout New Zealand.
Thames Coromandel District Council environment services manager Craig Birkett said the council was looking into the possibility of creating freedom camping locations around the peninsula.