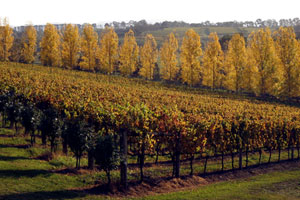 With its endless cycle of shows, sports events and exhibitions, Melbourne is a regular choice for Kiwis looking for a culture-themed short break. Why wouldn't we - with venues all within easy reach of the city centre, excellent public transport and diverse shopping, cafes and bars? And a river runs through it.
What escapes many visitors is that beyond its cultural heart, Melbourne has other attractions.
Within a day's drive are scenic spots ranging from the Mornington Peninsula, the Dandenong Ranges and the Yarra Valley to the start of the Great Ocean Road.
After a weekend of shows, museum and gallery visits recently, we found ourselves with a day to kill and a desire for something different before our early-evening flight home.
Enter Josh Oakes of Melbourne Private Tours, one of a growing number of niche tour operators catering for small groups and couples keen to avoid the humdrum of the tour bus.
The company he runs with his wife has options including indulgent spa visits, food-themed tours, heritage tours and wildlife visits. Or, if you know what you're after, you can design your own itinerary.
We are tempted by Oakes' promise of a day spent sampling the Yarra's fine wineries, about 70km northeast of Melbourne, and still reach the airport in time.
At the civilised hour of 9am, we check out of our hotel and head for the Yarra in a comfortable wagon, Oakes' non-intrusive commentary pointing out places of interest along the way.
To avoid the ubiquitous but monotonous motorway system, we take backroads through leafy suburbs and the old gold-mining town of Warrandyte before descending into the valley.
If Josh hadn't told us, we would not have known the Yarra was encircled by fire on the dreadful Black Saturday of February 7.
While whole settlements in the bush-covered hills were vapourised, the valley was spared (though in some places by a hair's breadth), largely because it was cleared to the ridge tops in the 19th century - first for pastoral farming, then vineyards, then back to pastoral farming. Now it is vineyards again, 55 in total.
The Yarra's story, like Australia's, is one of ups and downs, Oakes explains.
Its wines were winning medals at the Paris wine show within 15 years of the first vintage being struck in 1845. But the 1890s recession and a trend towards fortified wines brought a switch to dairy farming. The vineyard revival didn't begin until the 1950s.
An area once known for its cabernet sauvignons is now pinot noir and chardonnay territory, with a climate that Josh tells us is "warmer than Burgundy and cooler than Bordeaux".
Nowadays, the biggest concern in this land of drought is sufficient water for the vines - and to save lives and properties when the bushfires inevitably return.
At the pretty little town of Yarra Glen, you can still see charred tree stumps and scorched earth from where flames leapt the river and came within 100m of the main street. But the trees and grass are rapidly regenerating.
Oakes still fields the odd request to see the burnt-out towns in the hills, but he regards them as off-limits.
Our first destination is De Bortoli's vineyard toward the valley's northern end, which also has a cheese maturation room. We taste sauvignon blanc, chardonnay, viognier, a range of reds and excellent stickies, including the vineyard's signature Noble One semillon, all matched with cheese including an aged gouda, a goats' milk blue and a feta.
Even here, memories of Black Saturday are fresh.
The vineyard was hosting a wedding on the day of the fires, but by 10am it was surrounded, says manager Brett Stanley.
Guests were "locked down" inside the winery premises while staff manned the hoses.
By 1pm the guests were allowed to leave and the bride and groom had a suitable memento - their wedding photograph set against the backdrop of an inferno.
Stanley takes us up a hillside with views over much of the valley, and recalls how the ridge line was fringed with flames and black smoke.
"It took a couple of months, but it's just amazing the way it comes back. The place looks sensational now."
The view is indeed splendid on this overcast day - rolling hills merging with grey-purple clouds, the winding river cutting through the valley floor.
We backtrack through the valley to a hearty (and sobering) lunch at TarraWarra Museum of Art - where the building's design and rustic setting outshine the paintings by leading contemporary Australian artists - and more tales of good fortune tinged with sadness.
Another shortcut through Healesville leaves time for yet more wine-tasting before our airport check-in.
Dominique Portet is a boutique vineyard which cocks its beret at rivals by retaining some old-world techniques, including using handmade barrels from Bordeaux.
We try a few pleasant reds, but Oakes is wary about late-afternoon traffic around Melbourne, which we must skirt to reach the airport.
He needn't have worried - we make it in good time and in a mood to match the fine food, wine and scenery found on Melbourne's doorstep.
CHECKLIST
Getting there: Qantas has regular flights to Melbourne.
Further information: You can find out about the Yarra Valley at visityarravalley.com.au For more information on Melbourne and Victoria see visitmelbourne.com.
Geoff Cumming visited Melbourne courtesy of Tourism Victoria and Qantas.