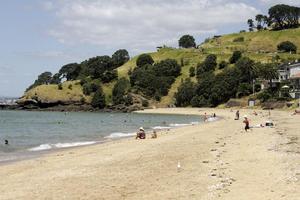 Times are tough, Christmas can be an expensive hassle, the top holiday places will be packed out and, even in a recession, chances are all the good sites at the camping ground were booked out long ago - so, why not try a staycation this year, and spend the holidays at home?
I happen to live in Devonport, which is nice at any time, but particularly delightful over the summer holiday period when everyone else has gone away.
A colleague of mine, who also lives in Devonport, has for many years spent the Christmas-New Year period there as a matter of policy.
"It's wonderfully quiet because you're just about the only people around," he explains.
"The beaches are almost empty and, if you're of a snide nature, you can think about the crowded beaches of eastern Coromandel, and rejoice in the absence of jet skis or people driving quadbikes along the sand.
"If you want to go somewhere, the motorways are quiet, parking is easy to find and there are no queues.
The attractions of the city are just a ferry ride away and when you get there, that's empty too. It's just the best time to be around here."
Sure, Devonport is a special case, but I'm sure the basic concept applies to most places.
The holiday season is also a good time to be a tourist in your own town, to see all those places or try all those activities that outsiders flock to but locals ignore.
Why not go to the local tourism website - in my case aucklandnz.com - or visit the local information centre - for me that's probably the Tourism Auckland i-Site on Quay St.
I had a quick glance and came up with a whole host ideas: visit Rangitoto, go to the Auckland Museum, walk a piece of Te Araroa's national walkway, climb the harbour bridge, see the regional botanical gardens, visit the Stardome Observatory, go snorkelling at Goat Island, take a dip in the hot pools in Waiwera, gorge on the finest bacon and sausages in the land at the Pokeno Country Cafe, explore Cornwall Park, wander round the maritime museum ... I could go on but that's enough to give you the idea.
Have a happy staycation.