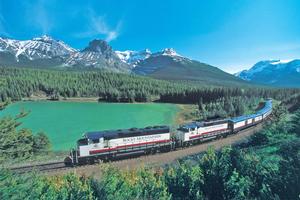 I intend to travel to Toronto next May to meet my daughter's new in-laws. I need to be there at the end of May but otherwise my time is flexible and I propose to travel for about a month. Apart from Toronto, I would like to see more of Canada and also to travel into the US and visit New York and around the northeastern region. I may end up doing some travelling on my own and therefore I would probably look at organised tours. Can you recommend some good tour options and destinations? Also, when would it be best to go - during May or June? Perhaps visiting Vancouver on the way over or back might be an option and travelling by train between there and Toronto.
- Christine Smith
Vancouver's going to be huge in 2010, with the city hosting the Winter Olympics in February. It's a great city, but locals are more in love with its outdoors, like Stanley Park and its totem poles in town or nearby Whistler, site of the Olympic skiing. For a great Saturday, hop on the BC Ferry to explore Salt Spring Island, a local getaway with a thriving Saturday market.
From Vancouver, there are several options to get to Toronto, and none of them involve a plane. Take the train. Many agencies arrange trips across Canada from Vancouver to Toronto, often with a stop in Alberta's gorgeous Rockies at Jasper with its wildlife, emerald-coloured lakes and snowy peaks. Rail Travel Tours offers a nine-day trip with a Jasper stop, where everything's arranged, but no guides; Vacations by Rail has a guided 13-day "Great Canadian Train Ride" with a longer stop in the Rockies. You could also go on you own, by booking the Canrail pass with VIA Rail, and stop where you want.
If you head over the border, you can hit a couple great cities in five to seven days, not splurge on a tour, and still work off a Vancouver return ticket. From Toronto, fly to New York City. You don't have to join a tour, just jump on a double-decker bus. The big apple's Big Onion Tours run excellent group walking tours around the city, while a Slice of Brooklyn Pizza Tour dares to suggest that the best slice in town is off Manhattan.
After New York, take a one-way flight on Jet Blue to Seattle, where you can look over Puget Sound, the city and Mt Rainier from atop the Space Needle and join a cruise around the harbor (try Argosy Cruises), before taking the train three or four hours' north to Vancouver and your flight home.
Observing Ramadan's rules
Could you advise me on the protocol when travelling in a Muslim country while Ramadan is on? I went to Indonesia several months ago during Ramadan and took great delight in eating their delicious food while walking around. When I came home I was told this is against their culture. Is this true? I would hate to be ignorant of their beliefs.
-Kathy Steed
Ramadan, which occurs during the ninth month of the Islamic calendar, is an important and sacred holiday for Muslims. Its main feature is daytime fasting, which means there is no eating and drinking from dawn until dusk.
This prohibition extends to any other activity that might be considered non-sacred. Modesty is the guiding principle and such things as listening to music and watching TV are not allowed, instead spiritual reflection is encouraged.
Fasting ends each night for the Iftar meal, which can be quite celebratory and usually features specially prepared foods.
Like so much else in travel, how you behave during Ramadan should depend on what is considered the norm locally. At the very least, take into consideration that modesty is stressed. In Indonesia, where most women are not veiled, it is still a good idea to cover up a bit more than usual. You may or may not find that beach activities continue unabated, although if ever women were not going to go topless, this is the time.
As a non-Muslim, you would not be expected to fast but neither should you flaunt your consumption - if nothing else it's rude to eat in front of people who are likely rather hungry.
However if local restaurants and cafes are open, than by all means patronise them. In fact you can get into the spirit of Ramadan by enjoying the Iftar meals - many hotels will have extra fancy buffets with foods not typically seen.
These are popular with local families as well as travellers. You might also forgo that beer until after dark, although you may not find one for sale during the day anyway.