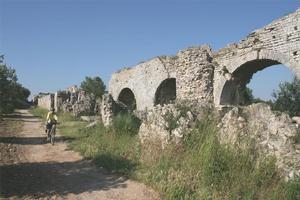 Sitting in a field of poppies, under the shade of laden apricot trees, lunching on some marvellously ripe camembert, a fresh baguette, succulent tomatoes, sweet cherries, home-made lavender cookies and, sadly, water rather than wine ... this is what I had imagined cycling through Provence would be like.
We got lost earlier today, adding several kilometres to our route, and we'll get lost again soon after lunch - due to the inadequacy of the instructions, I maintain, but others might lay the blame elsewhere - the way is hilly and the wind is against us.
But, hey, the sun is shining, the scenery is superb, the food is fabulous - we bought our provisions in the weekly market at the charming medieval hilltop town of Eygalieres - and before lunch we were able to climb up to the romantic ruins of an ancient monastery from which there were great views over the rocky peaks of the Chain des Alpilles and the villages, vineyards and farms below.
For all the occasional hiccups there's no doubt that cycling is a marvellous way to explore the beautiful French countryside, visit ancient monuments that are off the main tourist track, enjoy great food and wine, and meet delightful people.
In fact even getting lost has its benefits because it proved to be a particularly good way to meet nice locals. Outside the town of Tarascon, for instance, we had problems locating the turn-off to Maillane.
First we asked a man who was digging out a roadside ditch. His English was even worse than my French so he grabbed a stick and drew an incredibly detailed map in the surface of a nearby driveway, then shook my hand, pointed in the direction we needed to go, gave a huge smile and wished us "Bon chance".
Those directions got us closer but we still couldn't find the sign we were looking for - it was obscured behind a clump of ornamental trees - so we asked a young woman cycling along with her baby in a seat behind her. She turned out to speak very good English, told us to follow, and led us to the outskirts of town before offering a friendly "Enjoy your tour".
I have to admit that before the trip one of my concerns was how co-operative the locals would be towards a couple of visitors speaking only a little bad French. I needn't have worried. Most people spoke very good English which they seemed happy to use and those who didn't appeared to find the process of communicating across the language barrier hugely entertaining.
Another worry had been how a couple of over-60s who are only occasional cyclists would cope with riding long distances through one of the hillier areas of France. Again, I needn't have worried. The bikes provided by our cycling tour operator were extremely comfortable; the route, mostly along paths and country lanes, was extremely undemanding; and our luggage was transported for us so we could travel light.
The toughest leg, from Les Baux de Provence to St Remy de Provence, was only 33km and despite the fact that it took us up over the crest of the Alpilles, we got lost several times, had stops to explore a couple of charming villages and some picturesque ruins, enjoyed coffee at a lovely little cafe, shopped for food at a local market and had an extended roadside picnic in a flowery meadow, we still reached our destination in mid-afternoon with plenty of time left for a shower, a rest and a bit of exploring.
In fact pretty much the only problem we had in a week of cycling round Provence was the useless directions provided by the cycling tour company, which were at best misleading and at worst actually wrong, and completely failed in their promise to provide information about the fascinating places we were passing.
But don't take my word for it. In Les Baux we met another Kiwi couple, Jill and Bob Nichol from the Thames Valley, who were on a walking tour with the same company and had exactly the same complaints. "Many mentioned landmarks don't exist, right sometimes turns out to mean left and the wording is often ... confusing," said Jill.
"Listen to this from today's instructions: 'Take the scent that goes down on your right ... you will come across numerous paths... don't take them ... you arrive on a bigger trail and take twice on the right ...' What does that mean?"
On the other hand, she added, "Every day we do finally arrive at a fabulous destination and the day's frustrations recede amazingly fast over a glass of French wine." True.
Our overnight stopping places were indeed fabulous, sometimes for the sheer beauty of the towns, often for the amazing chateaux, churches, windmills or art galleries to be explored, and always for the great food and wine at the hotels we were booked into.
Among the highlights for us were:
* Searching the sleepy little village of Graveson for somewhere to have lunch - French villages have a disconcerting habit of shutting up shop 2-3 days a week leaving ill-informed tourists stranded - and finding a wonderful gallery devoted to the work of local painter Auguste Chabaud.
* Coming across, in the middle of a pine forest, the beautiful 12th century abbey of St Michel de Frigolet, where you can buy Father Gaucher's elixir, a liqueur containing 52 herbs gathered in the surrounding hills (I was tempted but managed to resist).
* Exploring the magnificent Chateau du Roi Rene, described as the most beautiful chateau in France, on the banks of the Rhone in Tarascon, plus, just over the road, the Church of Sainte-Marthe, built to hold the relics of the landlady of Christ, who was shipwrecked here after fleeing the Holy Land.
* Eating in the marvellous husband-and-wife restaurant at the Auberge des Balastres in Fontvieille - the best of the many fine restaurants included in our itinerary - not to mention swimming in the hotel's pool at the end of a sweaty day's cycling.
* Climbing a rocky hill above Fontvieille to Daudet's Windmill and watching a party of pilgrims to this literary shrine to Alphonse Daudet - described as the Charles Dickens of France - animatedly read extracts from his most famous work, Lettres de mon Moulin (ie letters from my windmill).
* Cycling alongside the remarkably well preserved aqueduct built by the Romans to provide water for the city of Arles and to power a huge wheat mill at Barbegal.
* Panting a little grumpily up the steep climb to Les Baux de Provence but then finding ourselves in a stunningly lovely medieval mountaintop village presided over by the spectacular ruins of the Chateau des Baux.
* Following in the footsteps of the painter Vincent van Gogh in the beautiful countryside around St Remy de Provence.
But the best thing about cycling round Provence was the simple pleasure of being able to explore one of the most beautiful and historic regions of Europe peacefully and at our own speed, able to stop whenever we wanted to enjoy a coffee or explore some ancient abbey, without having to keep pace with other tourists or placate some anxious guide.
There are similar tours covering most regions of France and they all look great. But if I did one again I would definitely take my own maps, compass and guide book.
Checklist: Provence
* How to get there
Air New Zealand flies daily to London, via both Hong Kong and Los Angeles, with connections to the rest of Europe through its Star Alliance partners. For further information and fares visit www.airnz.co.nz
* Cycling Provence
World Expeditions are the New Zealand agents for Utracks who offer self-guided cycling tours of Provence including St Remy de Provence. See www.worldexpeditions.co.nz
* Further information
For information about Provence see www.provencetourism.com, www.provenceweb.fr/e/provpil.htm or www.visitprovence.com
* Jim Eagles travelled to Europe with help from Air New Zealand but pedalled round Provence under his own steam.