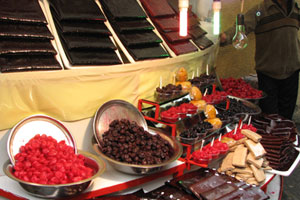 Iran's capital city Tehran doesn't always get a good press. In fact, trying to produce good PR for this huge sprawling metropolis must be a nightmare.
For most Westerners Tehran conjures up images of protests, political unrest and pollution.
So it can come as some surprise to find that amidst the mostly featureless concrete jungle of Tehran are leafy parks and wide boulevards shaded with tall plane trees (though admittedly these same boulevards are often choked with some of the most eye-popping traffic jams to be found anywhere in the world).

Many streets are flanked by wide, deep water channels called jubes that bring torrents of fast-flowing water from the mountains into the city.
Iranians frequently find refuge in their parks from the worst of the petrol fumes - they play badminton and chess, eat ice creams and set out elaborate picnics.
Apart from the occasional extraordinary event such as the post-election scenes earlier this year, you are in fact much more likely to find Tehranis picnicking than protesting.
A few days ago I was picked up by Iranian friends and taken to another favourite Tehran haunt - Darband - a suburb on the slopes of the Alborz Mountains that form a dramatic, often snow-clad backdrop to the city).
The Alborz include Iran's highest peak at 5671m and lie between Tehran and the warm, humid Caspian Sea coast.
Darband is popular all year-round. In winter people play in the snow, taking the cable car or chairlifts to go skiing. In summer its elevated site offers some reprieve from the suffocating heat of the city below.
Although it was now mid-autumn and night time, the temperatures were still mild as Reza manoeuvred his car into a park just below the mountain trails.
That was no easy feat as although it was a week night, the roads heading into the foothills were clogged with cars and pedestrians heading in the same direction.
We weren't planning any night climbs - merely a short walk to one of Darband's many teahouse restaurants that cling to the side of a narrow gorge.
A stream, partly choked with litter, ran down the centre - last time I'd been here it had been frozen solid.
Beside the trail were stalls selling another Darband tradition - tart fruit leather known as lavashak and dishes of sticky preserved berries.
"When we were kids our parents never let us eat any of this because they thought it was unhygienic," Reza remarked as we looked at the array of fruit.
Nearby was a tray of latex facemasks including Alf, Dracula and Shrek.
Each teahouse was festooned with fairy lights or flashing neon and at their entrances waiters were attempting to entice passing walkers inside.
We chose one with a fountain playing in the downstairs courtyard and climbed a series of staircases to a terrace.
There were no tables or chairs but takts (thrones) - square platforms covered with carpets with bolsters to lean against.
We took off our shoes and lounged on a takt. Tea, black and served in glasses, arrived along with a qulayan or hubble-bubble.
The water pipe is an integral part of many teahouses although today some provinces have banned it for health reasons. But with its soothing gurgle and waft of orange-flavoured tobacco it's still seriously tempting.
Around us, families, couples, gaggles of girls and cool gangs of young men ate kebabs, sipped their tea or passed by on their way to teahouses further up the slopes.
A few leaves from the walnut tree above us fluttered down in a presentment of the winter to come.