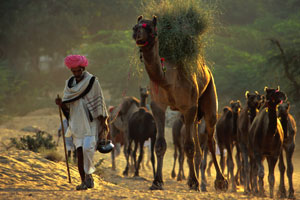 Treat yourself to a day in the shade, as Lonely Planet says 2010 is going to be a stellar year. Here are some suggestions for the 10 best things to do and places to be.
1. The total eclipse from Easter Island
Sunday July 11 next year will see a total eclipse of the sun, visible from a corridor that traverses the southern Pacific Ocean.
About halfway through, the path will cross over one of the world's most extraordinary and isolated places, Easter Island, punctuated by its huge, ancient statues. This is going to be the best possible place to observe the eclipse, with the darkened sun lingering above the northwestern horizon.
It's hard to beat the incredible cocktail of a shadowed sun, a Polynesian island, and 887 giant monumental statues (moai).
Only two flights per week serve this tiny outpost, 4 hours from Santiago de Chile - lan.com, return from US$2100.
2. The Peking to Paris motor race
The 2010 Peking to Paris Motor Challenge is a wacky races-style epic adventure, featuring classic cars rattling across the Old Silk Route. It starts in Peking (Beijing) on September 11, passes the Great Wall of China, then crosses Mongolia and the Gobi Desert, all the'stans, Iran, Turkey, Greece and Italy, before finishing in Paris. Most participants drive vintage cars, many of which are pre-1922. The first race took place in 1907, the second in 1997 - this will be the fourth extravaganza. Suspension and sockets permitting, they should cover the distance (14,119km) in around five weeks.
Budding adventurers with deep pockets should contact pekingparis.com for entry information.
3. The Fifa World Cup, South Africa
In 2010, the Fifa World Cup is coming to Africa. South Africa's premier soccer venue is the FNB Stadium (Soccer City), in Johannesburg, which has been enlarged to 94,700 seating capacity for 2010. Rumours have run rife that Fifa had a "plan B" for the World Cup, in case South Africa seemed ill-prepared. Nevertheless, it seems to be going full steam ahead, so let's hear it for plan A! Check the website (fifa.com) now or face being left with the dregs.
4. The Burning Man festival, Nevada, US
The Burning Man, in Nevada's Black Rock Desert, is a city that lasts a week. The site is vast and flat, edged by bony hills - the perfect place for "did I really see that?" mirages. There are no spectators, everyone is there to participate. It's not about commerce either, the only things for sale are coffee and ice. For seven magical days in summer, strange, fantastical shapes dot the desert. It's all evidence of what happens if you let your imagination run wild in the hot sun. On Saturday night, the man (a big wicker one) is burnt.
Get yourself prepared by reading the festival survival guide before you set off - burningman.com.
5. Camino de Santiago pilgrimage, Spain
It's a Holy Year in 2010, which means it's prime time for a Christian pilgrimage. The pick is the journey to Santiago in Spain, where the apostle Saint James is buried. There are a few traditional approaches. The most popular is the Camino Frances (French Way), from Roncesvalles, around 800km away. You should get a pilgrim's passport from a local church or tourist office, so that you can have it stamped en route. When you arrive, first touch the Tree of Jesse pillar, then hug the St James statue in thanks for a good journey. Make sure you book up front - santiagoreservas.com.
6. The Commonwealth Games, Delhi, India
Delhi has been undergoing a makeover to host its biggest ever sporting event, the Commonwealth Games (cwgdelhi2010.org). The games will shine the global spotlight on this vibrant, clattering, chaotic capital. The past few years have seen Delhi streamlined, with a flurry of new infrastructure, including a brand new metro system, and a US$230.7 million, 158.4-acre games village.
The airport has been expanded, there are new roads, overhauled stadia, and lots of new homestays and hotels.
The Delhi Government has set up an extensive bed and breakfast scheme, offering an opportunity to see the city from the view of a local - delhitourism.nic.in.
7. Space flight, California, US
Virgin Galactic is pitched to have the first commercial space flights starting in 2010. Tickets cost around US$200,000. Flights will be launched from the Mojave Spaceport in the Mojave Desert, California. The spaceship is attached to a specially designed carrier aircraft for up to 15,000m. It then will ignite its hybrid rocket and climb to over 110,000m in about 90 seconds, reaching a speed of just over three times the speed of sound, before descending again. Put your name on the list - there's expected to be around one flight a week.
Allay niggling concerns before you blast off - virgingalactic.com.
8. Vancouver Winter Olympics, Canada
From February 12 to 28, the Winter Olympics (vancouver2010.com) will be doing their thing in Vancouver, while the slopes of Whistler, 120km north, will host skiing and sledding. This extravaganza encompasses 86 sports, including the obvious, such as skiing, ice hockey and figure skating, and the obscure, such as curling (two sweepers use brushes to propel a granite disc along an ice track) and skeleton (racing a metal sled downhill). In winter the romantic trains and float planes aren't running, so hop on the Greyhound for the 2 hour journey from city to slopes - greyhound.ca, adult/child C$26/$16 ($33/20).
9. The Pushkar camel fair, India
As the morning light sharpens, the scene near Pushkar, a tiny town situated in the Thar Desert of Rajasthan, comes into focus. Hundreds of camels and their owners' camps fill the scrub. This is one of India's most spectacular festivals (November 18-21, 2010). The noise is a chorus of camel snorts, fairground rides, people and sound systems. It's a swirl of colour and chaos - camels, horses, tribal people, tourists and film crews all create the scene.
Jaipur has the closest international airport - cover the 138km to Pushkar aboard the Shatabdi Express (indianrail.gov.in).
10. The World Expo 2010, Shanghai, China
Shanghai is going to host the next World Expo in 2010 (May 1 to October 31) and 70 million visitors are expected to visit this particular festival of nations.
The huge site straddles both banks of the Yamuna River, more than 18,000 households have been rehoused to clear the site.
The 200 participating countries are pulling out all the stops - Copenhagen are even flying out one of their major tourist attractions, the iconic Little Mermaid statue, for the duration.
Keep up to date with all of Shanghai's extravagant plans, book tickets and see how the city plans to deal with a mind-boggling 70 million visitors - en.expo2010.cn.
This is an edited extract from Lonely Planet's Best in Travel 2010 © - the best trends, destinations, journeys & experiences for the upcoming year - out now. Lonely Planet Publications, 2009, $34.99.