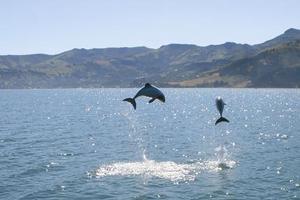 As well as its human population of 570 or so, Akaroa - or at least its harbour - is home to about 900 of the world's smallest marine mammal, the Hector's dolphin.
We take a cruise with Black Cat Cruises in the hope of seeing some of these apparently playful creatures.
As we leave the wharf, our chatty skipper and guide tells us the history of the area and its marine wildlife.
The harbour is an extinct volcanic crater and the sea caves and rocky cliffs are home to a variety of seabirds, including the white-flippered little blue penguin.
But the aim for most passengers is to see the Hector's dolphins. It is not long before we have success. Two or three are zigzagging in the water ahead. We ooh and ahh over them, until the skipper suggests we head on further to try for a bigger pod.
True enough, not far from a fishing boat we strike it lucky. At least 20 of the frisky black, grey and white dolphins are there to put on a show.
Not only are the Hector's dolphins special for their small size - about 1m-1.4m - they are distinguished by their small rounded dorsal fin.
Another boat arrives, bearing swimmers who have paid extra to experience the dolphins more closely. The dolphins are frisky and enjoy the interaction. We spend a good amount of time observing the fun and after lots of photos we leave the pod to explore the rest of the harbour, including seeing fur seals splashing in a rock pool.