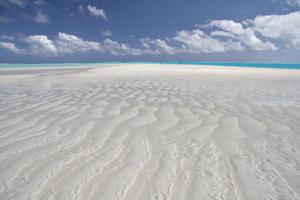 Flying out of the lagoon island of Aitutaki and looking back down on One Foot Island, I got the distinct impression that the tour guide had pulled one over us.
We had spent the day on a tour of this stunning part of the Cook Islands, soaking up the sunshine and listening to our guide, Katu, pass down ancient myths about how these white-sand shores got their names.
According to Katu, One Foot Island, or Tapueetai as it's officially known, earned its reputation after a local fisherman and his son set out to harvest a catch from the adjoining lagoon.
"But," said Katu, raising one finger in warning, "the local chief had forbidden fishing in this area and when he saw the fisherman's boat, he launched 1000 warriors to come and punish him."
Okay, 1000 canoe-peddling warriors sounds a little far-fetched now, but at the time we were more than slightly dazzled by the exotic charm of the lagoon.
"When the fisherman saw the warriors," Katu continued, "he fled to what is now called One Foot Island and jumped out of the boat with his son. He then told the boy to run and hide, while he followed carefully stepping over the little boy's footprints.
"When the warriors arrived they caught the fisherman but, thanks to the father's ingenuity, never looked for the son."
Katu then quickly glossed over the fact that the father was then killed, because "that's how it was in those days", and there were a couple of variations to the story.
Looking down at the footprint-shaped island on the flight home, I could probably guess where at least one of the variations had come from.
But it's hard to be mad after escaping a Christchurch winter to one of the most spectacular islands on earth. Even if it does come with tall tales.
We visited Aitutaki on one of the more affordable day trips from Rarotonga - a nice option if you don't wish to stay on the premium-priced island.
Actually, it's a group of islands, which conveniently protects miles of shallow lagoon from the rough Pacific waves (and sharks), making it a virtual oasis. After a quick morning flight, we were whisked away to our boat and set out for a day of island-hopping.
Akaiami was first on the list, where we snorkelled to our heart's content, surrounded by giant clams, bright blue starfish, rainbow-toned parrotfish and other creatures I was sure I saw in Finding Nemo.
Emerging from the water, we were confronted by a massive, and very fresh, seafood barbecue. It was a little unnerving eating fish after seeing such a beautiful array of colours under the water, but I certainly wasn't going to turn down such a feast.
As we chortled on to an outer-lying sandbank, Katu rattled off the numerous films and TV shows that had chosen this location. "You see those two islands, Moturakau and Motukitiu? That's where Survivor was filmed."
He pointed out the palm fronds adorning the deck we were lounging on, and revealed that it was done up as a "reward package" for one of the competitors to ride on.
"And those islands there," Katu nodded towards to Motoraku and Rapota, "were where the two tribes from Shipwrecked were based."
Katu also let us in on a loosely guarded secret - the first people to get booted off the island in some of the episodes were then put up in a luxury villa on the mainland until there were enough in "exile" to fly home. But this may be another local legend.
GETTING THERE
Air New Zealand has regular flights to the Cook Islands. See
www.airnz.co.nz
FURTHER INFORMATION
For more about visiting Aitutaki and the Cook islands see
www.www.cookislands.travel
Kate Roff and Joe Powers travelled to Aitutaki courtesy of Cook Islands Tourism and Air Rarotonga.