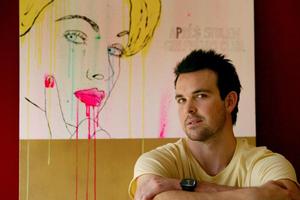 Do you travel light or heavy?
I am the worst traveller - super heavy! I take more than my girfriend.
Cattle or first class?
Cattle class - leaves more money to be spent on important things...like food!
I can't travel without...
Movies.
What type of suitcase do you carry?
I get shit for this all the time, I have an old vintage YSL suitcase that is so not practical. I was scared of it getting scratched on the plane so asked the check-in lady if I could bubble wrap it. She said no!
Are you a planner or last-minute packer?
I'm a planner, I usually make a list so I don't forget anything... like my passport.
What's the best thing you've brought back from a trip?
Bali ciggies (yum).
Favourite or most exciting airport to land in?
I haven't been to many but I would have to say Heathrow. It's crazy, you can see all the other planes circling to land - kinda scary.
Best packing tip?
Fold everything nicely so you can fit more in.
Most memorable trip?
Going to Fiji for my friend Dan's wedding. We had a big crew and although it was a morning flight we hit the champagne hard. It was so cool having a group of friends all flying to a tropical island to celebrate one of your best friends getting married - is there a better reason to travel?
What do you do while on the plane?
I try to watch as many films as I can when I fly - I'm mad on movies.
Marc Moore is the creative director at Stolen Girlfriends Club, a fashion label which won the $30,000 travel prize as part of the 2009 Air New Zealand Fashion Innovation Awards.