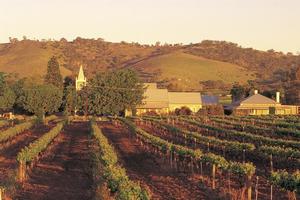 In the heart of Adelaide's CBD is a fascinating foodie oasis: the Central Market. The largest fresh produce market in the Southern Hemisphere, with more than 80 specialist stalls undercover, it is the jewel in the crown of a proud state of top-quality food and wine producers.
The most visited tourist destination in South Australia - attracting more than 1.3 million visitors per month - it is steeped in 135 years of history and multicultural diversity. Some stall holders have run businesses there for three generations, such as the family proprietors of Lucia's Italian cafe - illustrating the role that waves of migration have played in the development of the state's cuisine scene.
Chef Mark Gleeson - owner of a stall called Providore - leads tasting tours where he shares his experience in gourmet produce and his passion for the market and the people who use it. Allow for more time than the 1 hour tour because you'll want to stay and explore the colourful array of lanes and broadways offering artisan meats, seafood, epicurean cheeses, bakery goods, sweets, nuts and health foods.
If you can fit in another morsel after that, Haigh's Chocolate store offers premium handmade chocolates from the oldest family-owned chocolate manufacturing retailer in Australia.
Housed in a landmark Gothic building called the Beehive at the start of the Rundle Mall shopping strip, the shop has been selling Haigh's chocolates since 1915. It's the only chocolatier in Australia that still imports and roasts its own beans. Chocolate frogs are the company's most popular product, with more than a million sold each year.
Along with offering great food and wine, South Australia is a blend of relaxed lifestyle and gorgeous landscape, from established wine country and tranquil farmland to untouched bush. Easy to get around and welcoming, Adelaide is South Australia's capital city, with a population of 1.2 million people.
Set beside a river and surrounded by parklands, it's known as the "20-minute city" because everything is so close to travel to. Just a 20-minute drive from Adelaide, Mt Lofty Summit offers a bird's eye view of the whole region and coastline. At 710m above sea level, it is the highest point south of the Flinders Ranges.
North Terrace is Adelaide's cultural boulevard, where you'll find the state's art gallery, museum, library, National Wine Centre, Government House, Adelaide University and the botanic gardens.
Tourabout Adelaide offers guided walking tours of the terrace, giving an insider's view of Australia's first "free settlement" - the city has no convict history. A copper boom in the 1870s injected wealth, and many of the beautiful stone buildings lining the wide streets were erected then.
The museum houses the world's best Aboriginal collection, and the art gallery boasts the country's best display of colonial art among its collections.
Tours conclude in front of the botanic gardens, where for something unique, you can take a Bush Tucker Walk, operated by the Aboriginal-owned Bookabee Tours, winner of the 2008 South Australian Tourism Award for Indigenous Tourism.
At the time of European settlement, the area that is now Adelaide - including the gardens - was occupied by the Kaurna people. On a leisurely stroll around the botanic gardens, you learn about Aboriginal bush foods and plant uses, traditional duck-hunting techniques and other food-gathering practices, how boomerangs are made and where to find bush medicines.
Tour guide Haydyn Bromley is a living link to the original inhabitants of the area, and the people speaking on film in the museum's Aboriginal collection are his family. In one clip, his mother recounts the story of how her mother and aunts were taken from their parents and put in separate institutions and foster homes - part of the Stolen Generation.
Bookabee also run all-inclusive, chauffeured 4WD tours up into the Flinders Ranges, visiting key heritage sites.
Just an hour's drive north of Adelaide lies the Barossa region, encompassing more than 900 vineyards. The first vines were planted in the Barossa by European settlers in the 1840s, and 120-year-old vines continue to bear fruit for crafting into fine wine today. It is the epicentre of Australia's viticulture industry, but also offers gastronomic delights and ever-changing vistas. Rows of vineyards connect rolling emerald and gold hills, hamlets, pristine farmland and historic buildings. There is a strong sense of cultural identity and community spirit, which adds to its appeal.
A fun activity for anyone who has dreamed of being a winemaker for a day is the Make Your Own Blend experience offered at Penfolds Winery cellar door - the first of its kind in the Barossa. Kitted out in a white lab coat and under the watchful eye of a real winemaker, you experiment with concocting your own blend from three varietals: shiraz, grenache and mourvedre.
It's highly satisfying blending to suit your own taste, and even more fulfilling to take home your favourite in a personally labelled bottle. Shiraz is the flagship wine of the area, but grenache is the second most widely planted grape variety. I found it a luscious, cherry- and raspberry-filled wine.
Peter Lehmann's winery has a picturesque setting that makes it a good spot for lunch - savour a "weighbridge" platter of simple but tasty regional fare, maybe followed by a siesta beneath a graceful gum tree.
* * *
Adelaide Central Market Tour - centralmarkettour.com.au
Guided walking tour of North Terrace - touraboutadelaide.com.au
Adelaide Botanic Gardens Bush - Tucker Walk, bookabee.com.au

Getting There
Fly there with Air New Zealand Book now
Find out more at Australia.com