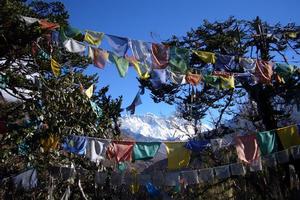 When Himalayan expedition leader Ang Tshering Sherpa talks about his home village of Junbesi, it comes as a revelation to the people he has guided through the mountains.
In sharp contrast to the care given to the trekkers on his World Expeditions' trips, the 3300 people living in and around Junbesi, in the northeast of Nepal, are very much on their own.
Their only access to the outside world is a six-hour walk to Phaplu airstrip or a three-day walk to the nearest road at Jiri.
Until 2005, when Ang organised the construction of Kushudebu Public Health Mission in his village, the nearest medical facilities were a five-hour walk away in the town of Salleri. Villagers needing treatment, including pregnant women and accident victims, were forced to walk or be carried through the mountains to receive help.
Even today medical care is precarious, because the centre receives no government funding and relies on donations and funds raised by the locals, and there has never been enough money to do all that is needed.
It's a moving story ... so moving that when World Expeditions organised a Community Project trip - with three days of work followed by a 10-day trek into the Everest region - I was one of the first to sign up.
Our team of 15 trekkers, from Australia, New Zealand and Britain, ranging in age from 31 to 67 years, met in Kathmandu, flew to the mountainous airstrip at Phaplu and walked the long trail into Junbesi.
A welcoming party comprised of the medical staff and local officials came to offer us chang - a local Sherpa drink - and we all received the traditional Sherpa welcome gift of a yellow khada or scarf around our necks.
Also there was our expedition team of Sherpas, porters, a cook, and kitchen boys, who had already set up camp overlooking the medical centre.
Then the work began. We laid paving stones, moved vast mounds of earth, applied whitewash and paint and generally assisted the team of local carpenters whose wages were funded by a component of our trip payment. It may not sound like much but the effect was magical.
In two days the simple long-stone centre building was transformed by the addition of a veranda, a paved area for waiting patients and new window frames, and work was also started on upgrading the toilet.
The work required no special skills but plenty of enthusiasm. We worked for about six hours a day and rotated our tasks, with allowances being made for sore backs and creaky knees.
Our Nepalese was limited to greetings, but there was a great sense of team spirit as we worked together with the unfailingly cheerful team of carpenters. The local villagers arrived to check us out and, although the medical centre was officially closed, two young mothers carrying their babies in woven baskets on their backs came for vaccinations.
Some members of our party had brought donations of a laptop computer, medical supplies, sheepskin rugs and warm baby clothing, which were were gratefully received.
Following our last day of work we were feted by the locals, treated to a display of dancing and given a personal message of thanks from Nawang Gimba Lama, who had walked from nearby Phunmoche Monastery to express his appreciation. We left Junbesi feeling we had made a real difference to the village.
On the trek that followed we crossed icy rivers on scary bridges, went through rhododendron forests, visited the mountain monastery of Tengboche and the Himalayan trading centre of Namche Bazaar, caught spectacular glimpses of Everest, descended to the village of Kumjong and visited the famous Khunde hospital, founded by Sir Edmund Hillary.
It was an incredible trek.
But we all agreed that the three days working in Junbesi was a highlight of our trip.
FURTHER INFORMATION
World Expeditions will be holding a free information evening featuring Ang Tshering Sherpa at 6.30pm on Wednesday, October 7 at the Parnell Trust, 545 Parnell Rd, Auckland. Phone World Expeditions on 0800 350 354 or visit worldexpeditions.com for further information.
The Friends of Junbesi group, established to support the village medical centre project, will be holding a fundraising dinner, which will also be addressed by Ang, on Tuesday October 6. Email tienny.jerram@xtra.co.nz or phone (09) 528 9380 for details.
See kushudebu.org.np for information about the medical centre project.