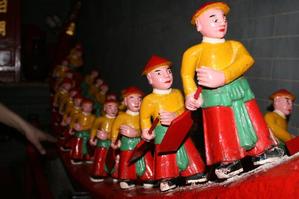 Inside the tiny temple of Tam Kung, the Taoist god of seafarers, on the shores of Coloane Island, was a magnificently carved model of a dragon boat, 2-3m long, with a ferocious golden dragon's head and a crew of miniature men. "That," said Gigi Lam, our guide, "is made from the bone of a whale."
Underneath the boat she pointed out some other lengths of whalebone that hadn't been carved, which, she said, dated back centuries to the time when whales could be caught in this corner of the South China Sea.
"The carving is very old. It is said that if you run your hand along the bone, from the dragon's head to its tail, it will bring you good luck."
Coloane is part of the former Portuguese enclave of Macau and, since we were due to visit one of its many casinos that night, a bit of good luck seemed a fine idea. But Gigi hadn't finished her story. "For the good luck to come you also have to put some money in an envelope and fasten it to the dragon's tail."
Sure enough, beside the glittering teeth of the dragon was a pile of red, handmade envelopes and stuck into the scales of its tail were several more envelopes.
It still seemed like a good deal - success at the blackjack table in return for just a couple of dollars - so I slipped a brightly coloured local note into an envelope and ran my hand down the length of the boat ... then back again just to be sure.
Of course there was the little matter that the Tam Kung temple and its lucky boat weren't actually set up to help gamblers but, if Gigi was to be believed, the god was happy to help anyone who paid him the appropriate respect.
Coloane, just off the coast of China, has long been a fishing community and, like fishing communities everywhere, the inhabitants have always taken care to placate the sea upon which they depend.
Nearby is the Largo Tin Hau Miu, this time dedicated to the goddess of the sea, known locally as A-Ma.
Its decorations included a beautifully carved traditional boat, made of wood rather than bone, but also used in ceremonies each April honouring the mysterious powers that rule the waves.
And that's appropriate because, while modern villas have replaced humble fishing shacks in most of Coloane village, the area still retains its links with the sea.
At low tide the flats in front of the village are still lined with rows of prawn traps.
Just across the narrow strip of water dividing the island from mainland China you can see dozens of fishing boats riding at anchor.
And down the end of the foreshore a row of slightly dilapidated houses on stilts - some still being repaired after the latest typhoon - provides a taste of what Coloane once looked like.
Walking through this corner of the village is like taking a step back in time. Outside several homes lines of fish are drying in the sun. In one front room two women are busy peeling a basket full of shrimps. On the deck outside another an elderly man is removing fish bladders - a great delicacy - so they can be preserved.
Further on are several huge sheds once used to build junks. No hulls are rising in them today but the sounds of woodworking suggest that they are still in use.
Beyond these traditional structures, slightly obscured by the brown haze from the factories of China, rise the glittering glass towers of the hotels and casinos of modern Macau ... a few kilometres away but centuries apart.
As it happens I didn't get to try the power of Tam Kung against the more modern forces at work in the casinos. Along with a small group of Kiwis I wandered through the glittering gambling hall at The Venetian but the lowest minimum bet we could find on a blackjack table was M$100 (about $20) which was too rich for our blood.
Instead we retreated to one of the many bars for a quiet drink and a chance to bemoan the lack of a suitable opportunity to demonstrate our collective skills at cards.
But it occurred to me, as I sipped my Laphroaig, that maybe this was how Tam Kung had chosen to save me from losing money.
CHECKLIST
Getting there: Cathay Pacific flies from Auckland to Hong Kong 10 times a week. From Hong Kong there are regular ferries to Macau, including some which leave from the airport.
Go to the Macau Government Tourist Office for more information.
Jim Eagles visited Macau as guest of Cathay Pacific and the Macau Government Tourist Office.