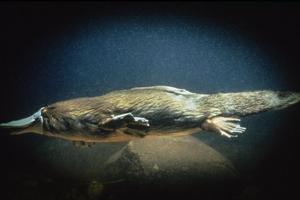 When you spot a rare animal in the wild, it's an "ooh-ah" moment, whether it be a pride of lions in Africa or a lone tiger appearing out of an Indian jungle ... or a small, duck-billed oddity called a platypus.
So, here we are in Eungella National Park, 80km west of Mackay in Queensland, waiting in the fading afternoon light and hoping to spot one (these shy creatures are best seen in early morning or late afternoon).
We know they are in the peaceful Broken River - it is one of the best places in Australia to sight the animal - but so far none have shown up to greet us.
The platypus belongs to a unique group of animals called monotremes. They are warm-blooded, have a covering of hair and suckle their young. And you don't often see them in the wild.
Queensland Parks and Wildlife have thoughtfully provided a viewing platform on the riverbank and we have our instructions: stand still; look for circular ripples in the water and the small wave created in front of the platypus as it paddles.
About 20 of us are craning our necks. We see plenty of slow-moving turtles. And, yes, finally there's a platypus. It surfaces and paddles across the river. Then dives.
Another appears. Wow, we have seen not just one platypus, but two.
Our guide is Col Adamson, operator of Reeforest Adventure Tours. We had begun in the coastal city of Mackay earlier in the day and driven along the Pioneer River valley, through a green sea of ripening sugarcane. Col has brought us here by way of the Eungella park, which includes the largest continuous stretch of rainforest in Australia. We have enjoyed damper and billy tea in his private bush camp at Finch Hatton before an easy 2.8km walk along a track to Araluen Cascades.
After recent rain, the water rushes off the mountain into the deep Araluen rock pool, in summer a tempting place for a swim.
Eungella park protects many unusual rainforest plants, such as the Mackay tulip oak, and animals, such as the Eungella dayfrog and honeyeater.
By the time we get to Col's bush camp, we've worked up an appetite for the barbecue on offer. A row of kookaburras waits in a tree for scraps. In the meantime, they pose for our overseas visitors.
Lunch enjoyed, we drive up the mountain, past a huge mango factory, to The Chalet at Eungella township. Built in 1934 as a guest house for people needing clear mountain air, The Chalet enjoys a grand view of the valley back to the coast. It's also a popular spot for hang-gliders to take off.
On the way home to Mackay we'll stop at a classic outback Queensland pub, the Pinnacle Hotel, to taste one of Wendy's famous homemade meat pies.
CHECKLIST
Further information: To read about Reeforest Adventure Tours' day trips, visit reeforest.com
To find out about Mackay, visit mackayholidays.com.au