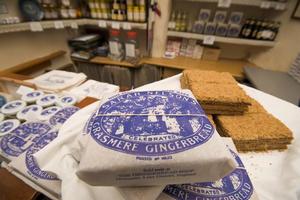 The name may sound medieval, but England's farthest northeastern county has been called Cumbria only since 1974, when it was created in a local government reorganisation. In the process it subsumed areas whose names had truly ancient echoes, including Cumberland and Westmoreland.
The former name endures in the famous Cumberland sausage, which comes in metre-long coils - indeed, it is sometimes sold by length rather than weight.
But sausage is the least of it in a county that is becoming as celebrated for its cuisine as its countryside.
Small-scale organic farms and food manufacturers have proliferated in recent years, producing nationally recognised meats (Cumberland ham, Borrowdale lamb, which matches the Welsh variety, and cheeses, particularly from ewe's milk).
Two pieces of baking deserve mention: the Kendal mint cake, a sticky concentrated confection of sugar, glucose, water and peppermint oil, made in the southern market town for which it is named, was probably the world's first energy bar.
It's very popular with hikers - indeed, it was carried on the 1953 Everest expedition and Hillary and Tenzing chomped through some on top of the world.
And in Grasmere, only a few steps from Wordsworth's grave, Sarah Nelson's famous gingerbread ("None Genuine Without Trade Mark", the paper wrapper says) is sold in the little cottage where it was first made in 1850: delicately gingery, slightly nutty and criminally buttery, it would probably sustain an Everest expedition too.
Cumbria is also home to some fine-dining destinations. The isolated country pub I stayed in, the Punchbowl Inn in Crosthwaite, was named Pub of the Year 2009 by the Michelin Pub Guide and the excellent menu and range of cask ales attest to its entitlement.
I drove a few miles south to Cartmel, near Grange-over-Sands for dinner one evening. Michelin-starred L'Enclume (the name means "anvil"; it's housed in a former smithy) is the HQ of one of the nation's hottest chefs, Simon Rogan, who has been dubbed the Heston Blumenthal of the Lake District (the latter is the chef at The Fat Duck, which in a 2005 poll of chefs, was voted best restaurant in the world).
Using local produce and even local wild herbs - the latter he gathers himself - Rogan creates culinary magic that at times recalls the molecular gastronomy of el Bulli's Ferran Adria, but is more natural and organic.
The famously acidulous Giles Coren, restaurant critic for the Times, said he was "breathless with admiration, respect and awe for the skill, imagination and restraint" of Rogan's food, and I had to agree.
This is cutting edge, modernist cooking, offering extraordinarily delicate interpretations of unlikely combinations: a tamarillo martini "fizz", conceptually a cocktail but gastronomically a pre-dinner sorbet; tiny breaded prawns in a delicate gelatinous sauce made from pigs' trotter; a foie gras "ice cream" - really a mascarpone - on a block of pickled onion turkish delight (it tasted like the former and had the texture of the latter); a subtle hot-and-sour soup into which an egg-based emulsion is piped at the tableside, to congeal in the liquid like angel-hair pasta.
Eating this in a restaurant in a remote seaside village, I felt a world away from haddock and mushy peas or the pre-match kebab.