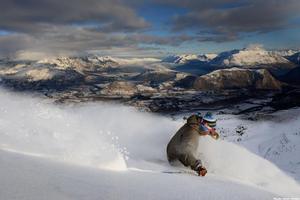 It has reached that time of year in Auckland when it feels like it's going to rain right through to spring. The antidote? A long weekend in a place where they do winter properly and the rain comes down as pretty white stuff.
In Queenstown they have snow, not boggy lawns. The air is crisp and dry and, yes, freezing cold, but to a waterlogged Aucklander it's a charming novelty to rug up in serious coats and woollens.
It may seem obvious, but the other thing about Queenstown is that it is stunningly beautiful.
Witness my reaction upon reaching the lookout at the top of the Remarkables ski field.
Even if you're not a skier or snowboarder, the trek up to this vantage point is worth it. It's an easy 15-minute scramble through the snow from the top of the Shadow Basin chairlift to the spot where, unsurprisingly, many marriage proposals have been made. I'd seen plenty of views of Lake Wakatipu and surrounds before, but I was unprepared for this. Standing on the narrow point of a ridge with a peak plunging away beneath, there is a panorama that takes in the lake and and the town, as well as Coronet Peak, Arrowtown and Lake Hayes.
I believe I gasped "Oh my God, that's incredible" quite a lot.
You've got cold and you've got snow, so of course you must ski. Both Queenstown fields had fresh dumpings, so first thing Saturday we headed for Coronet Peak. New facilities were built two seasons ago and they are now arguably the best in the country. An indoor street accommodates the ticket booths, gear hire, snow shops and the like while the upper level is taken up with a huge cafe and equally enormous deck, complete with underfloor heating.
The field caters to all skill levels, and no less than 204 snow-making cannons help ensure the quality of the snow cover.
Not a cloud in the sky again on Sunday as we wound our way up the intimidating road to the Remarkables. Recognising that the road presents something of a barrier, operator NZSki now runs free transport from Queenstown to the field. Whereas Coronet will satisfy the intermediate skier or boarder, the Remarkables has plenty for the novice and the expert, but not a great deal in between. No matter, there are other forms of entertainment. There is the walk to the lookout, and it's worth watching the boarders defy gravity over the fairly decent-sized jumps in the terrain park.
The other diversion the Remarkables offers is tubing. Unused to an honest day's skiing, we hit the wall about 2pm and booked ourselves in for an hour's session. It is dead easy; so easy your grandmother could do it ... and in fact several people's nanas were.
You are issued with a helmet and a thing that looks like an inner tube. You sit in it, a rope tow hauls you up and you get spat out at the top, then you slide like an idiot down channels carved out of the snow. Good, clean family fun.
Although this weekend was about the skiing, my attention kept being diverted by food. This was because we were constantly served fabulous meals. In Queenstown, decent cuisine is never far away. Special mention must go to the degustation dinner at the Crowne Plaza's ThreeSixty restaurant, in particular the pea and ham soup first course: well-braised ham hock on the plate, with the pea soup poured from a teapot over the top.
All this an hour and three-quarter flight from Auckland. It might be counter-intuitive, but if you're feeling so damp you may start growing mould, head south.
CHECKLIST
Getting there: Air New Zealand has eight flights a day from Auckland to Queenstown, three of them direct. Fares start from $89 one way. See airnz.co.nz
Skiing: For information about Coronet Peak and the Remarkables visit nzski.com. Lift passes for an adult cost $93 a day at Coronet Peak and $87 a day at the Remarkables. Tubing costs $17 an hour for adults
Where to stay: Weekend packages at the Crowne Plaza Queenstown start from $170 per night twin share. See crowneplaza.com
Further information: For information about Queenstown, visit queenstown-nz.co.nz
Maria Slade visited Queenstown courtesy of NZSki, Air New Zealand and the Crowne Plaza.