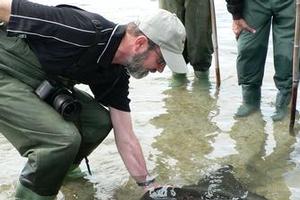 The French lady squeaked in fright as a stingray nudged up to her boots in search of food. But the rest of us bent down and took turns feeding the greedy little creature.
Crazy? Maybe. It's true most people - especially since Steve Irwin's tragic death - try to get away from stingrays and their painful barbed tails.
But Dive Tatapouri, based at a beautiful bay on the outskirts of Gisborne, has created a successful business by taking customers out to pet and even feed them.
At Tatapouri we joined a French couple, who had travelled from afar for this experience, in putting on wader suits and following guide Dean Savage out over the reef. When we were far enough out he tossed a few handfuls of chopped fish into the sea and we waited.
Within moments we were surrounded by a seething school of small fish with a few larger kahawai lurking below. Soon afterwards a stingray turned up.
"That," Dean explained, "is a short-tailed ray. It's one of two varieties we get here.
The other is the eagle ray which is bigger."
With all due respect to the name, its tail - and the barb at the end - looked pretty big to me. It must have been close to a metre wide and taking its tail into account more than a metre long. But it seemed very friendly and kept hanging round our feet in search of food.
Apart from the French lady, who stayed clear, Dean soon had us busy feeding the ray. That involved taking a piece of fish, putting your hand underneath the ray's head, and letting it slide over until its mouth reached the food.
It was quite a pleasant experience. The skin was soft and the mouth itself was toothless and gummy rather than sharp. A bit like feeding your grandad with his teeth out, I thought, until I remembered I am a grandad.
We did see an eagle ray, which was quite a bit larger, but it decided not to hang around. The crayfish, which sometimes come up out of the rocks to feed, also gave it a miss. But the ray kept coming back, nudging our boots and eating everything put before it.
Dean's wife, Christine, later explained that the ray feeding started after they noticed that, when they came back to shore after a fishing trip, the rays used to hang around looking for scraps. "Now we get people coming from all round the world to experience feeding wild stingrays."
Jim Eagles visited Gisborne with help from Air NZ and Express PR.