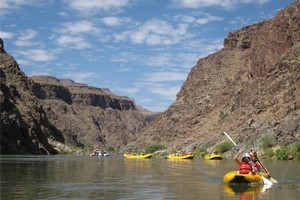 Scotty's words echo in my head: "Whatever happens, don't go in the hole".
It's too late. We're in the hole. A towering wall of water engulfs the kayak and flips it around.
Suddenly, we're pointing upstream and being sucked backwards. I glance around to discover my brother is no longer behind me. He has been washed out but has managed to grab the rope at the back.
Somehow he hauls himself back in and we paddle like madmen, crashing through huge waves to make it to calmer water.
Scotty is waiting there, smiling and shaking his head. "I told you not to go in the hole."
The rapid at mile marker 209 is only a grade five on the Grand Canyon's whitewater rating system of one to 10, but I feel as though we have just paddled through Niagara Falls. It is one of the most thrilling things I have ever done.
Rafting through the Grand Canyon on the Colorado River is one of those must-do-before-you-die travel experiences. Only 16 companies are licensed to operate in the canyon and the National Park Service strictly controls the number of people on commercial and non-commercial trips each year.
It is so popular the service has had to introduce a one-trip-a-year policy, and you will need to book up to a year ahead to secure a spot.
The rafts are launched at Lee's Ferry - mile marker 0 - and make their way through some of the most spectacular scenery on the planet. Although some companies offer an option to tackle the whole thing, most split the trip into three segments, each with its own appeal.
The initial 141km section from Lee's Ferry to Phantom Ranch takes six days and is widely regarded as having the most impressive scenery. The downside is you have an arduous eight-hour hike to get out of the canyon when you finish.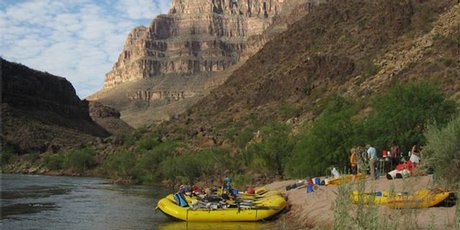 Those looking for the wildest whitewater opt for the 160km Phantom Ranch to Whitmore Wash. You hike in at Phantom but a helicopter flies you out of Whitmore.
We're on the final section - the 61km from Whitmore Wash to Diamond Creek. It is tamer than the other two and involves only two nights' camping on the riverbank.
Our adventure starts with a 45-minute flight from Las Vegas to a remote part of northwest Arizona known as the Arizona Strip. Once the hideout of outlaws such as Butch Cassidy and the Sundance Kid, the area is now home to the rustic Bar 10 Ranch, which is where we spend our first night.
The next morning a helicopter threads its way between the canyon's dramatic burnt-orange walls to deliver us to the rafts, where Scotty and the other guides wait.
We pack our gear into waterproof bags and set off down the river in one of six, 6m Neoprene rafts. Only now, as we drift serenely downstream, do I finally comprehend the scale and majesty of this natural phenomenon.
Created by a combination of tectonic plate activity and erosion by the Colorado River, the canyon's walls provide one of the single most comprehensive pages of the planet's geological history anywhere in the world. To lie back and be surrounded by 2 billion years of scenery is a breathtaking, humbling experience.
After a sumptuous lunch of cold meats, salad, fruit and biscuits, my brother and I are offered the chance to paddle in an inflatable two-man kayak known as a ducky. We end up spending the remainder of the trip in it and it provides some of the most exhilarating whitewater experiences I have ever had.
Camp for the night is on a wide, sandy beach and, while the guides prepare a three-course feast, our group of 16 settle into camping chairs, crack open some wine and get better acquainted. There are enough tents for all, but most people choose to sleep on cushioned mats under the stars. Torches aren't needed as the moon bathes the beach in a ghostly half-light and the sky is crammed with a riot of stars.
Hot coffee and a breakfast of eggs, bacon, pancakes and fresh fruit - all miraculously prepared in a makeshift kitchen in the wilderness - eases the pain of being woken the next morning at 6am.
We tackle three large rapids today (205, 209 and 217) and between each one let the current carry us downstream while we marvel at the majestic scenery and wildlife. Falcons, eagles and osprey soar above us and bighorn sheep negotiate impossibly steep slopes.
We enjoy one final evening of feasting, storytelling and stargazing on the river before we paddle towards Diamond Creek, where we will be shuttled back to civilisation.
During those last few kilometres, the river narrows and we are hemmed in by a natural amphitheatre of towering rock.
As we drift silently downstream, one of the guides sings a slow, haunting rendition of Amazing Grace, her voice echoing off the canyon walls. It is a poignant end to a magical trip.
IF YOU GO
Details: Oars offers a variety of trips through the Grand Canyon from April to October. The four-day Whitmore Wash to Diamond Creek trip costs US$1690 each and includes all food and transport to and from Las Vegas.
When to go: May and September are ideal. August can be spectacular as the monsoons bring big rains and flash flooding. July can be uncomfortably hot.
Rob McFarland was a guest of the Las Vegas Convention and Visitors Authority.