Denver is cowboy central - but with a veneer of culture, says Sarah Ivey.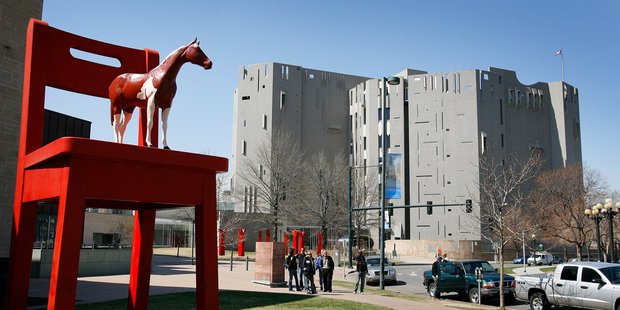 Denver is a city which still has a secret western swagger. On the surface it may look very smooth, modern and concrete-grey. But underneath that facade hides a town where cowboy boots, big steaks, statues of horses and the spirit of rodeo still thrive.
When I arrived in the Mile High City, tired, jetlagged and oppressed by the thin, dry air, the polished grey veneer seemed to dominate and I wasn't all that excited.
But after a relaxing soak in the Hotel Teatro's fabulous, deep, hot bubble bath, breathing air softened by the room's humidifier - turn it on, it really helps - my cowgirl spirit returned and I was set to hit the town.
Only a five-minute walk from the hotel (quite handy on a below zero winter's night) is Larimer Square, a restored section of Denver's oldest street, which has been developed into a trendy nightspot that hosts many great boutique shops, urban bars and chic restaurants.
The decor may be chic, but these places haven't forgotten the sort of sustenance needed after long days of driving cattle across the plains.
At places like Ted's Montana Grill you can grab a great meal for under $20 - the portions are huge, so go easy on the ordering - after which you'll feel replenished, revived and ready for anything (incidentally, if you're a fan of onion rings then I recommend you give Ted's a whirl, you won't be disappointed).
If you're after something different, there's a great Mexican restaurant across the road that serves delectable cuisine and a mean tequila cocktail. After you've got a few of those under your belt you'll have a long, deep sleep, and be ready for a big day of adventure.
A cowboy ready to hit the town after weeks on the trail might not be expected to head for a museum but the Denver Art Museum is something special.
For a start, the museum's original North building is coated in over a million glass tiles which give it an iridescent sheen as they catch the light. The newer Hamilton building has an unusually sharp beauty, its elegant angles creating flow from its snake-like, titanium-scaled coating, creating an effect surprisingly reminiscent of the surrounding Rocky Mountains.
The museum displays over 60,000 works of art, many of them relating to the western ranching, farming side of Colorado, from detailed displays of full-scaled horses to stunning paintings and hand crafts. It is family and child-friendly and there are enough interactive games and activities to keep the kids - and big kids - occupied for hours.
The city's western heritage is also reflected in its shopping, especially in the iconic Rockmount Ranch Wear shop, home of the snapbutton western shirt, invented by CEO, "Papa Jack" Weil - at 107 the oldest working CEO in America.
It's an amazing shop, packed to the brim with racks of shirts, belts and buckles, hats, scarfs, chaps, boots and all sorts of other bits and pieces a cowboy might need. The rich smell of new leather and animal sweat lingers in the air, which might seem hideous but for some reason is enchanting, a timely reminder that, despite the legend, punching cattle has always been bloody hard work.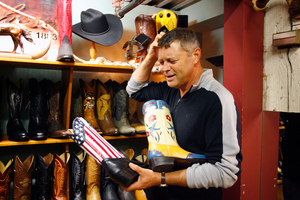 Or, if you're more inclined to shop at world renowned tailors such as Coach, Burberry, Tiffany or Abercrombie and Fitch, then the Cherry Creek Shopping Complex is your nirvana. The impressive 160-store complex offers everything the most avid shopaholic could ask for, from the imported Italian marble floors to the shoppers' lounge where you can watch ESPN on large plasma screens.
If you fancy going to Denver to shop then the best time to visit would be mid-July when Cherry Creek North's Sidewalk Sale has huge reductions on quality stock. The area is known for its small boutique, one-of-a-kind stores and, because they don't have outlet stores or warehouses to send their end-of-season stock to, the whole lot goes on sale.
The sale coincides with the Denver Arts Festival, ranked as the number one fine arts and crafts festival in the United States, drawing more than 250,000 people.
And by the way, Cherry Creek North has also created a niche for itself with luxury salons and spas. Women come from all over to have a little work done on themselves and return home with no one any the wiser as to why they look so good.
But, if you're more interested in wrangling than shopping or plastic surgery, Denver also has an event for you.
Every January the city hosts the National Western Stock Show and Rodeo, billed as the world's premier stock show and featuring more than 15,000 animals.
Pull on your cowboy boots and head for Denver at this time of year - you'll find yourself in redneck heaven. Yeehah!
CHECKLIST
Getting there: Air New Zealand flies twice daily to Los Angeles and daily into San Francisco with connections via Denver into the Colorado ski resorts of Aspen, Eagle (Vail) and Hayden (Steamboat). Call 0800 737 000 or visit your Air New Zealand Holidays Store for more details.
Further information: To find out more about Denver try the city's visitor bureau website at denver.org. To check out skifields in the vicinity see coloradoski.com.
Sarah Ivey visited Denver as guest of Colorado Ski Country USA.