Paul Rush finds Fiordland's alpine Kepler Track a challenge, while others dash over it in record time.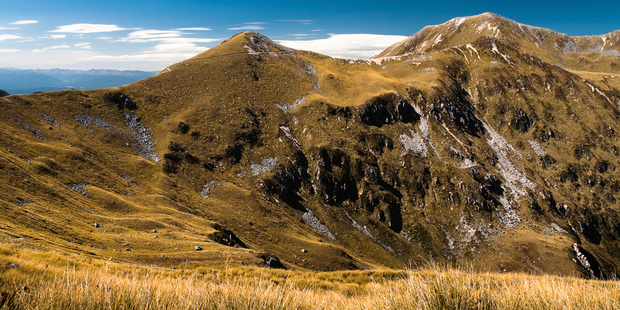 I'm making good time on a long switchback descent, nicely balanced and cushioned by my Leki poles, but John passes me at a rate of knots, burning up the gravel track as if his life depends on it.
I stop to watch him with surprise and admiration as he zooms ahead, propelling himself forward with the agility of a mountain goat.
This 20-something, Danish-born tramper from Manchester is carrying a full-sized backpack and appears to be thoroughly enjoying himself.
His good leg moves forward in a blur of motion and his dangling half-leg follows with singular dexterity, swinging in time with his crutches.
There's something about the Kepler Track that invites people to take up the challenge and conquer its 67km of dense Fiordland beech forest, exposed alpine ridges, steep descents and long glacial valleys. It is a New Zealand Great Walk, attracting 8000 trampers each year, 80 per cent being overseas visitors.
It is also the venue for the Kepler Challenge mountain race and the 28km Luxmore Grunt. Each year 550 competitors slog through rain and mud and produce fast times. The record stands at a staggering four hours 41 minutes.
With this daunting statistic in mind, I set out from Brod Bay on my leisurely four-day tramp, fully resolved not to break records but to enjoy the scenery at my own pace.
Streaks of sunlight flood the forest floor on my four-hour climb in the primordial peace of mountain beech forest.
The gravel track is well graded and bears no sign of human activity. The Department of Conservation practice of handing out rubbish bags with hut tickets clearly gets the message across.
Kat and Jenny from Sydney and a couple from Glasgow join me for a lunch break in a cosy clearing.
We emerge from the treeline to view open tussock tops, a stunning blue sky and breathtaking scenery. Soon we're relaxing in the well-appointed Mt Luxmore Hut. Mark, the hut warden, presents his safety talk in the evening, stressing that candles are "verboten" in the bunkroom, as is swimming in the nearby tarn - the hut's water supply.
At dawn, I head off to tackle the Kepler tops, with a panorama over lakes Te Anau, Manapouri and the Murchison Mountains, home of the takahe, a large flightless rail that was thought to be extinct but rediscovered in 1948.
Later, when the midday sun becomes hard to bear, I swim in a tarn, taking care to avoid trampling mountain daisies, bluebells, gentians and dracophyllum plants that dot the surrounding herb fields.
The first view of the Iris Burn river flats is a great boost to morale. I judge the descent time to be around 40 minutes, but the immensity of the Fiordland landscape deceives me and the final zig-zagging section of track takes a full 1 hours to traverse.
Pania, the Iris Burn hut warden, welcomes many weary wanderers into her domain - a large tussock clearing in the middle reaches of an idyllic valley. Tonight's tally is 20 Israelis, and 40 other trampers, mainly Australians, Germans, Dutch and Kiwis.
The next day's leisurely tramp down the Iris Burn makes a pleasant change from the sun-baked trek on the open tops.
The leaf-littered pathway wanders through primeval beech and podocarp forest, home to curious fantails, tomtits and chaffinches.
After six hours, the route skirts Lake Manapouri's shoreline to Moturau Hut, above a beach where the water temperature is 21C - perfect for a refreshing swim.
Three water-ski boats are hauled up on the beach. In the evening a dozen teenage lads take up residence on our front lawn, inviting female trampers to share their Speights beer and lively camaraderie. By 9.30pm the behavioural boundaries are well and truly breached as the lads strip naked and run through the dorms.
The riotous behaviour continues until they have kissed every young woman present. This is achieved just as the hut warden loses her patience.
The two worst offenders suffer the indignity of swimming after their departing boat.
Finally, peace and propriety are restored in the bunkrooms of our supposedly remote wilderness hut. In the morning I take the pleasant stroll out of the park, crossing the Amoeboid Mire, an open sphagnum moss swamp, ringed with sedges, rushes and bog pine.
The Kepler Track is indeed a Great Walk in every sense - challenging, but also rewarding, thanks to its diversity of landscapes. It caters for every tramper who wants a walk on the wild side; either at my pedestrian pace of four days, or at the lightning speed of those supercharged endorphin freaks who knock it off in four hours.
IF YOU GO
Bookings are essential in the October to April walking season.
See doc.govt.nz for more information.