Waiting for summer means missing out on so much, writes Victoria Bartle.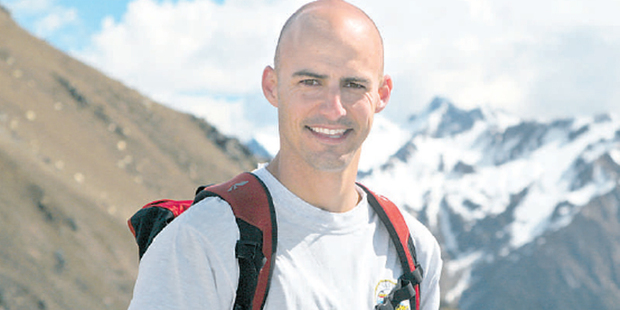 Just the mention of spending a crisp, wintery morning in the "great outdoors" right now would have many of us snuggling deeper into our favourite corner of the sofa, pulling up the nana knee-rugs.
Ryan Kelly is more likely to grab his favourite shorts.
In deference to the final weeks of winter, he concedes, he'll probably remember to pack a snug beanie too, to pull down over his shaven head - "but only until I've warmed up".
There's nothing this Nelson-based wilderness walks guide likes more than having fellow New Zealanders or international tourists join him on the Heaphy Track in winter or at least in early spring. Waiting for the hot summer days, he insists, means we're missing out on so much.
Oooh, but what about the goose-bumps, the Rudolph red (and dripping) nose, smarting eyes and the whitening finger tips that freeze painfully and then go numb?
"Nah - walking gets you warm pretty quickly," Ryan says and, he points out, it's better than being hot and sweaty under the inescapable and unforgiving summer sun.
Generally, the later weeks of a New Zealand winter, heading into spring, are a premium time for walking the world-famous Heaphy Track, Ryan says.
"The weather tends to be more settled and the nights are clear and star-lit. You're breathing all that truly fresh air; the walking keeps you warm, and the environment looks completely different from what it does in summer.
"It's so lush. The green of all the ferns and moss is so full-on, it's spectacular."
And, for the doubtful ones who still shake their heads and shiver, Ryan has a trump card; fresh servings of spicy chicken curry to warm you right down to the soles of your trekking feet.
Ryan has been guiding walkers over the Heaphy at the northern end of the South Island since 2006. He's come from walking thousands of kilometres, guiding travellers over the Milford and Routeburn Tracks, and through Australia's Kakadu National Park.
This adventure walks guide, who recently bought out his partner's share of Southern Wilderness New Zealand (making him sole owner of the company), also happens to be a passionate foodie.
Little packets of freeze-dried foods just don't cut it on Ryan's Heaphy Track menu.
When he is at home in Nelson, Ryan prepares gourmet meals ranging from chicken curry to lamb back straps, fresh vegetables and local salmon.
To ensure absolute freshness, the salmon is delivered on the third afternoon of the walk, fresh and on ice, by one of Ryan's guiding staff who treks in from the opposite end of the Heaphy Track. Everything else is vacuum-packed and frozen.
Local wines are chosen to match the foods and the entire mobile pantry of gourmet meals and beverages (about 30kg worth) is cleverly crowded into Ryan's back-pack. "I'm the pack-horse, the chef and the guide."
The guides who work for Southern Wilderness Walks have to be passionate about food and its presentation as much as they are knowledgeable about flora and fauna and the local history.
Ryan limits his groups to eight people and will take as few as three or four people in the winter months when most only leave their armchairs and venture into the cooler climes to snow-ski.
The Heaphy Track is touted as Kahurangi National Park's "most famous and accessible treasure".
It covers 82km of terrain ranging from subtropical rainforest to tussock-tufted high country; river-ribboned valleys and gorges to accessible sandy beaches along the coast. Annually, close to 5000 walkers set out to cover the Heaphy Track; the longest of New Zealand's nine Great Walks.
For hundreds of years, when it was less civilised and much less preened for adventure tourism, the track was used by Maori on their way from Golden Bay to the pounamu (greenstone) resources of the West Coast's rivers.
The majority of walkers make the trek in summer - "probably because not many are mad enough to venture out when there's still the possibility of snowfalls," Ryan quips. There have been some winter walks when his group has been snowed upon, he admits. "It happens rarely, and the track is at such a low altitude, the snow doesn't last for long.
"It's a lot less crowded at this time of the year. It's quieter and more peaceful."
Some of the Department of Conservation huts have indoor fires.
"It's not quite the same as sitting round the camp-fire under the stars like they do in the cowboy movies, but sometimes my groups will warm their vocal chords with a few songs."
And if you're really hardened to the night air, venture outside and stand under the stars. You're bound to hear the night calls of our native kiwis.
CHECKLIST
Getting there: Nelson is an 80-minute direct flight from Auckland. Air New Zealand flies from Auckland to Nelson about 69 times a week.
How to book: Contact Ryan Kelly of Southern Wilderness New Zealand, 0800 666 044 for walks on the Heaphy Track during the winter and spring months. Book at least one week in advance. Southern Wilderness Walks provides return van transport from Nelson city to the Heaphy Track (approximately two hours' drive).
Victoria Bartle is about to set out on the Heaphy courtesy of Southern Wilderness New Zealand.