Victoria Bartle checks out the edgy suburb of Newtown.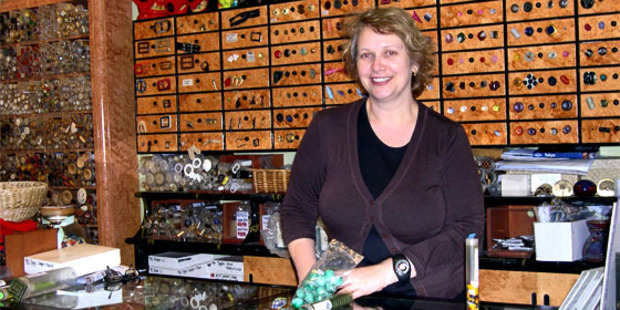 Newtown is no place for a Nana. That's "Nana" as in folk who have Nana tendencies such as being a little too fussy, verging on prudish or easily shocked. If you've ever been told to "stop being such a Nana" then don't do Newtown on your next trip to Sydney.
Newtown's community is a melting pot. There's lots of body piercing on lots of bodies; lots of incredibly black hair dye with matching lipstick and eye-shadow and that's not just on the females; and there's more than a few tresses and spikes of startling red or lurid green, too.
Newtown is definitely gay-friendly and Goth is so popular that several stores sell everything and anything in Goths' favourite colour of black.
The locals have a way with personal style that's cool, clever and funky - or downright frightful if you're a Nana.
It's colourful, unconventional and diverse. The main thoroughfare, King St, is four interesting kilometres covering an incredible diversity of interests.
There are more than 600 absolute one-off businesses, from body-piercers to tattooists and hair salons, to fashion and jewellery, homewares and toys.
Sydney's foodies call it "Eat Street" as it boasts more than 100 cafes, pubs and restaurants covering every possible ethnicity and food type.
It's also designerville, but without the snobbery and flash shop-frontage glitz of Sydney's hob-nob boutique shopping suburbs. Here you'll discover a reasonably priced fashion find of the century that you can bring back to New Zealand and be damn sure you won't it see on anyone else.
Newtown is just four train stops out of Sydney's frenetic underground station at the Town Hall to the inner-west suburbs where the pace slows dramatically.
Make haste by all means, but only to bag the best cafe table in the sun and enjoy the morning spoils from the oven while they're still warm and a copy of the daily newspaper before it's been wrinkled.
At 9.45 on a Friday morning, I was way too early for Newtown. Cafes were open, but it seems 10.30am to 11am is plenty early enough for local retailers.
On a sunny work-day morning, without the distraction of open shop doors, the old buildings shout history, mixed with a little funky retro, artistic bent and many decades of grime. In the 1800s, it was the first suburban shopping centre developed outside of Sydney's centre. The main street is the longest and most complete commercial precinct of Australia's late-Victorian and Federation period, although it started life as a bullock track leading to farmland, and earned a reputation in the 1960s for being run-down, seedy and unsafe.
Real estate prices have since driven out most of the undesirables, although junkies are not unusual and, by nightfall, I did spot a little huddle of deros hanging out together. There's so many other people around, though, that there's no feeling of risk.
But, if you do feel the need to move on, keep wandering until you hit the adjacent suburb of Glebe, smaller than Newtown and a little more genteel, but home to lots more great shops and the busy weekend Glebe Markets held in the local school grounds.
Here's a selection of Newtown's and Glebe's most interesting shops:
Home to Lucy Godoroja's passion for buttons, this tiny shop is jammed full with buttons in every shape and size.
She has sold buttons for as much as A$100 ($122) each, made in the 1970s in Paris and adorned with gold and crystal diamantes; but when I was there some Swiss buttons topped the price list at around A$66 each.
Even if you're not into sewing, there are some buttons to adorn hats and bags, hair-ties and shoes, cushions and quilts, or to string up as jewellery.
Good enough to make you want to have another baby. The clothing for wee girls and boys (up to age 6) here is testimony to the creative flair of Sydneysiders and Melburnians.
Even actor Russell Crowe has discovered Shorties, falling for the hand-crocheted soft toys, ranging from cup cakes to robots and rockets.
Just off King St in Enmore Rd, choose papers to write letters (there's a huge stock of envelopes to match), wrap gifts, make journals, scrapbooks, boxes and bags.
The shop also sells pens, wax seals, ribbons and stickers. Exotic papers include hemp, tamarind and banana leaf, silk, lace, flocked, suede, embroidered, foiled and embossed.
Great to feast your eyes and touch and feel all the different textures.
A tiny fashion store, with its front door on the corner of King and Union Sts, Made590 mostly stocks locally designed clothing for women, men and kids, displayed alongside unusual homewares from Japan. This is one of Newtown's fashion stores that grew out of its owner Christina Kelly's successful years of designing and selling clothing at outdoor markets.
ZUKINI
Also hugely loyal to local designers, Zukini has a great selection of clothing from emerging designers.
A standout label is High Tea With Mrs Woo, which nowadays makes it to Australia's annual Fashion Week. These garments are instantly recognisable, superbly tailored, intricately designed and elegant.
The website is a delight in itself, worthy of a decent click-and-scroll session.
Magnificent architectural treasures fill two floors of this 30-year-old business in Glebe Point Rd. Ornate gates, statues, mirrors, massive double doors, fire surrounds, and glittering leadlights hanging from the ceilings had me a little awestruck.
It's all for sale and most items come with an intriguing story, such as having been borrowed as props for movies such as Scooby Doo, Babe, Moulin Rouge and Mission Impossible.
Architectural Heritage is used to shipping large items to New Zealand and there are smaller treasures you can buy and take home yourself.
Glebe boasts this brilliant second-hand bookstore - more than 30,000 titles - in which I browsed and lunched for over an hour.
Housed in an old 1880s building, tables are tucked behind the bookshelves to take the extra customers when the semi-outdoor cafe gets too full.
There's outside seating on the main street, too. Upstairs is an equally fascinating collection of second-hand and antiquarian music books at Da Capo Music.
Victoria Bartle travelled to Sydney courtesy of Tourism New South Wales.