The ancient Incan sights of Cusco leave you breathless - literally, writes Rob McFarland.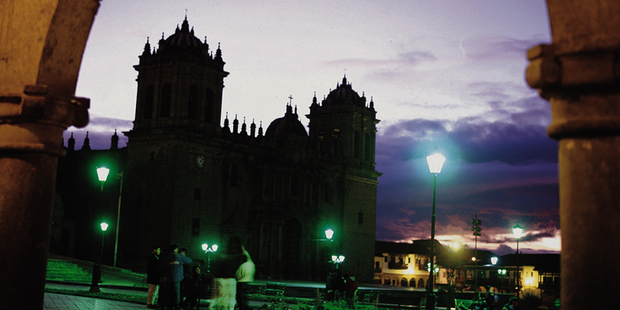 I've never been so apprehensive about getting off a plane. After spending most of the flight from Lima to Cusco reading about symptoms of altitude sickness, I am convinced I'm going to faint the second the door is opened.
I venture nervously out and take my first breath of oxygen-starved Cusco air. Then a second. And a third. The relief is palpable. I'm going to survive.
Even if you don't share my morbid addiction to the Lonely Planet's environmental hazards section, the spectacular descent through cloud-shrouded mountains into Cusco will leave you in little doubt that you're now at a serious altitude - 3326m above sea level.
There's no way of telling how the altitude will affect you, but the best advice is to drink plenty of the local coca tea and to take it easy for the first few days.
Unfortunately, not everyone follows this advice because they're so eager to reach Peru's number one attraction - the fabled lost city of the Incas, Machu Picchu.
But those who linger discover that Cusco has managed to retain much of its historic charm despite being invaded by tourists.
Wander through the intriguing maze of cobbled streets that branch off the main square, Plaza de Armas, and all around there is evidence of the Inca empire that once controlled an area four times the size of Peru. Several alleyways have the original Inca stone walls and many of the buildings have been built on top of Inca foundations.
The cathedral on the main square is a must-see and I'm glad I dragged myself out of bed at 6am for one of the morning services. Inside are several stunning chapels decorated in silver and gold, and an impressive range of 17th-century canvasses.
While the compact city is well-suited to exploration on foot, sightseeing at this altitude must be done at a different pace. The slightest incline leaves you embarrassingly short of breath and many of the city's attractions are at the top of dauntingly steep cobbled streets.
Although frustrating at first, it does at least make you slow down and appreciate your surroundings.
Catering to the hordes of visitors are the usual array of backpacker-style bars, clubs and restaurants. But if you're feeling adventurous and fancy trying some Andean cuisine, Ama-Lur restaurant does a mean roast guinea pig.
The little critter is served whole, with its legs splayed and two front teeth bared aggressively. Apparently, it tastes like chicken.
After a few days in the city, most people have acclimatised and ready to branch out a little further. Although the biggest drawcard is the mountaintop citadel of Machu Picchu, there are other important Incan ruins close by. Just 2km from the centre of Cusco, on a hill overlooking the city, are the remains of Saqsaywaman - which is pronounced, amusingly, "sexy woman".
Built in the rule of the ninth and most influential Inca king, Pachacutec, it is believed to have taken 20,000 people 30 years to build.
A little further afield are the spectacular Inca ruins at Pisac and Ollantaytambo in the Sacred Valley. Most guided tours will visit all three as part of a day-trip.
The Incas achieved an amazing amount during Pachacutec's 40-year reign, conquering large expanses of the Andes and building scores of citadels and 4000km of roads.
After hearing tales of such incredible human achievement, I'm a little embarrassed to admit that back at the hotel I had to lie down and rest after drying my hair.
Cusco is like that. If you relax you'll discover a fascinating city of immense historic importance.
It won't fail to leave you breathless, but in all the right ways.
IF YOU GO
Aerolineas Argentinas flies to Buenos Aires three times a week with connections to all major cities in South America.
South American specialist Tucan Travel offers 38 Peru tour itineraries. Groups travel in Tucan's own vehicles or use local transport and stay in locally owned hotels.
Rob McFarland travelled as a guest of Tucan Travel and Aerolineas Argentinas.