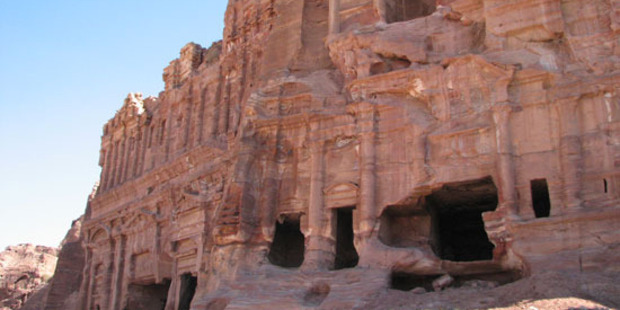 Now that the ancient rose red city of Petra has been named one of the new seven wonders of the world, tourists are flying to Jordan for the day from Dubai to tick it off their lists.
I guess if I had just once chance in life to see this place of mystical power and wonderful natural beauty I might be tempted to do the same.
But, thanks to God, as they say here, I didn't need to.
Which is why I have time to sit, perched like an eagle, high above the jagged tear in the mountains that leads to the hidden city.
I'm guessing we're about 150 metres above the siq (gorge) that in some places is still paved with flagstones probably laid about 2000 years ago by the original builders of Petra, the Nabateans.
The voices of a babel of tourists float up to the rock ledge as does the clatter of hooves from the horses used to pull small carriages through the siq as far as the Treasury or al Kazneh.
Al Kazneh, with its soaring columns and carved pediments, is spectacular but I've fallen in love with the view from above.

Mountains slashed with ravines, slopes littered with rock slabs and boulders, the ground under our feet strewn with fragments of terracotta pots.

A small girl swathed in a shawl is herding sheep that are grazing on the scant grass and among small clumps of miniature white tulips. Their drinking water comes from the reservoirs built by the Nabateans two millennia ago.
Harbi and I climb further to the High Place of Sacrifice. Below us a Bedouin girl sits beside the jewellery she hopes to sell to passing tourists.

Harbi, a local, calls out to her: "I am lost, how do I get down?" She looks up, a little quizzically.
She points out the gully that Harbi has already told me is the way down. When we reach her she scolds him: "I thought you were a tourist."
The Nabateans had hewn an almost horizontal platform from the rock spur overlooking the siq for their sacrifice place.

There are channels for blood, reservoirs for fresh water and platforms for the offerings.
Wind buffets us. Harbi still makes me peer over the edge where a near-vertical drop ends on the top tiers of a 7000-seat Nabatean theatre.
A conga line of tourists is passing the theatre, snaking its way along the colonnaded street towards tombs, temples and lunch.
They are attended by Bedouins offering camel and donkey rides, and coins of doubtful provenance. A tour guide waves a furled umbrella and shouts instructions to her straggling group.
But up here it's just us among the rocks striped like wavy candy canes, the discarded ancient pot handles and broken flints.

The ghosts of the long vanished Nabateans live on up here - and that truly is a wonder of the world.