You need not wander far in this famous German city to cover some mind-boggling history, discovers Jennie Milsom.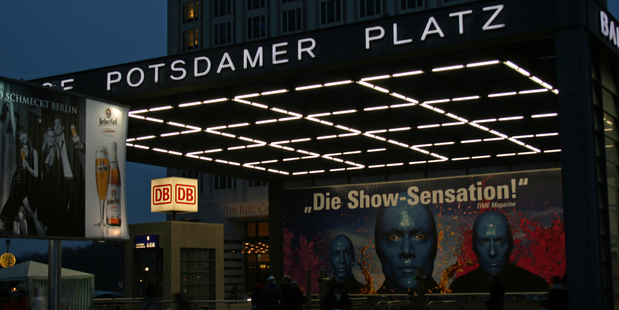 When you're in New Zealand and the sun's been shining since Christmas, it's hard to imagine not lolling around in its rays.
On the other, chillier side of the world however, some of us have been battling with an eight-hour walking tour at five below zero.
Welcome to Berlin in the winter, where the pavements are gritted with salt. It's the kind of cold that freezes eye-balls; if you tripped you'd snap off a toe.
Our walking guide, Victoria, cheerfully tells us that -13C is the coldest tour she's ever done. Still we feel no warmer.
I've done this Brewer's Berlin Walking Tour twice before with the man himself, Terry Brewer, who would take groups on daily epic tours which could stretch beyond 10 hours.
Brewer is now in his 70s - he still does half-day tours twice a week - and has amassed a clever clan of colleagues to run the infamous day-long treks.
Victoria is a self-confessed history geek who likes to "out-fact" her male colleagues; she reads, sleeps and breathes German history.
We kick off our walking tour in the Jewish Quarter and huddle together in doorways, soaking up tales of history and prostitution. We hear of Anita Berber, a renowned prostitute in the 1920s, who strutted her stuff on Freidrichstrasse in nothing but heels, a vial of cocaine around her neck and a live monkey draped over her shoulders. Stand outside the ornate New Synagogue at night and, along with religion, you'll have sex (prostitution) and death (armed guards) in a single shot, says Victoria.
Berlin is not a pretty city. It's been pulled apart and broken down and has the scars to prove it. If you see what look like bullet holes in walls, that's probably what they are. Every building which survived WWII has a story but there are few plaques shouting tributes or condolences; they'd be everywhere if that were the case.
Victoria leads us up the graffitied stairwell of a former shopping centre, now an art-house with cinema, theatre and a cafe - its warren of corridors is plastered with posters requesting that we do not deal drugs. Through half-open doors we glimpse artists manoeuvring huge canvases; other rooms house make-shift shops selling cards and prints.
We perch along window sills and hear of Hitler's rise to notoriety before wrapping scarves around our faces and marching outside for the next instalment.
Warm-up breaks such as this are a necessity - mid-morning, we disperse for hot drinks in a train station and Victoria doles out tissues for cold noses.
Later, for 20 glorious minutes, we sit in the warmth of a bookshop on Unter der Linden while she illustrates history with photographs and her own sketches of the division of Berlin and the Wall.
We look up at the iconic TV Tower with its cafe at the top, which now spins at twice its original speed.
You'll feel sick having a coffee up there, Victoria says. For a less-nauseous (and cheaper) view of the city, she advises climbing the brown building in Potsdamer Platz.
We shelter in the foyer of a bank overlooking the Brandenburg Gate. People queuing for the Reichstag must be mad, says Victoria; it's a two-hour wait to get in and you won't see much from the top on a day like this.
We head off to the Holocaust memorial where we lose each other in its 2700 gravestone-like giant grey slabs; a bleak, maze-like mass which rises and falls like a sombre wave against the white sky.
After a lunch that satisfies the only real requirement of being hot, we venture back outside; the light is fading and, incredibly, it feels even colder than before. Victoria tells us to think warm thoughts as we pause outside the Checkpoint Charlie museum.
The usual touts are making a cheap buck - for the princely sum of 5 euro (NZ$9.20) they'll put an East German stamp in your passport. Don't do it! Incredibly, an East German stamp, as it's no longer officially recognised, will invalidate your whole passport and you'll spend the rest of your trip trying to sort out a new one.
And if that's not enough illicit behaviour, those doing the stamping are German porn stars by night, we're told.
We resist coffee at nearby Snack Point Charlie and head to Fassbender & Rausch, a sumptuous chocolate shop with elaborate chocolate sculptures of immense proportions - the Titanic and the Reichstag are just two I wouldn't mind snapping chunks off.
Victoria allows us seven minutes of chocolate frenzy; we vow to return for a hot chocolate in its grand cafe upstairs.
Nearby we find the Neue Wache, built in 1816 as a guardhouse for Prussian soldiers.
The building now serves as a war memorial - the Memorial for Victims of War and Tyranny - and houses the sobering but serene statue Mother with her Dead Son.
The statue sits is directly under the hole in the roof, exposing it the brutalities of Berlin's climate - today a thin layer of snow - meant to symbolise the suffering of civilians in World War II.
Suddenly it's dark, and we're in need of more hot food.
On Victoria's recommendation, we take a tram a few stops north to a good, old-fashioned joint where we've been instructed to order red cabbage with goulash and dumplings. Meaty and thawing - it's just what we needed.
We may not have walked far but we've certainly unearthed miles of history.