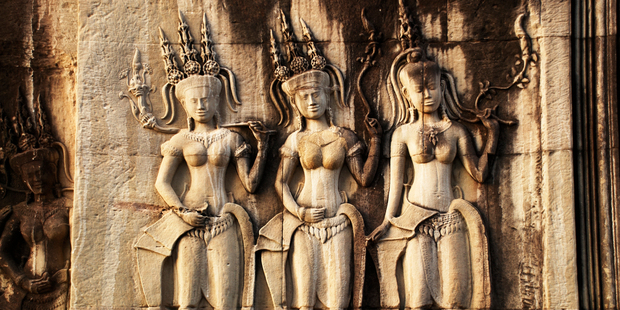 It's close on sunset and the trail of tourists walking up the hill is getting longer and longer.
From the top of the 10th century Bakheng temple, Angkor Wat rises above the jungle in the distance.
Some sit on the steep steps after clambering up them. Others look through the telescopes, while below some take an elephant ride.
Angkor, the glory of the Khmer civilisation, which shaped Cambodia from the 9th to the 14th centuries, covers a vast area and has about 100 temples.
Since Angkor Archaeological Park's temples were designated a World Heritage Site and opened to tourism in 1993 - after 30 years of war - the place has boomed. Last year 1.7 million foreign arrivals were recorded , a 20 per cent increase over 2005. It's estimated by 2010 there could be as many as five million visitors.
Most tourists come only for two days to Siem Reap, the town next to Angkor Wat.
Already problems such as hotels pumping underground water for their own use are worrying locals and those working to protect the area. But others would like to see the tourists stay longer.
This is also a suggestion made by Associate Professor of Archaeology at the University of Sydney, Roland Fletcher, who has been working at Angkor since 1998 and is a project director on the Greater Angkor Project and the Living with Heritage Project.
"The Cambodian government would really like people to stay longer for the straightforward reason it would bring more tourist income into Cambodia. But the other side of it is the hotels would be washing all their laundry every two days, which is wasteful and not environmentally desirable at all."
One of the key things archaeologists are discovering about the site, says Fletcher is it's true size. "It's huge. Everybody's used to the idea of Angkor as a group of temples with Angkor Thom in the middle but in fact the Angkor urban area covers nearly 1000sq km instead of the 200sq km of the central temple area."
He says Angkor was a low-density medieval city, spread out with houses surrounded by rice fields, with a huge system of canals and human-built reservoirs known as barays.
"The Angkorian world essentially removed the forest to grow rice so this entire landscape was rice fields with houses surrounded by economic trees like palm trees. After the 16th century the forest took over again.
"It was an urban landscape. The Ta Prohm has a record on its walls of 12,640 people who worked for it on a daily basis - the administrators, cleaners and dancers."
For tourists coming to Cambodia there's much more than Angkor to see. Temples built over four centuries that once formed part of the vast Khmer empire are scattered across the country. These sites are gradually becoming more accessible. But more time is needed to visit - and appreciate - them.
Fletcher hopes tourism can be developed to take visitors on to Tonle Sap lake and up to the hills. "There could be walks through the rice fields and down these giant canals, some of which are 40km long."
IF YOU GO
What to do: As well as seeing the monuments there's great shopping in Siem Reap, restaurants offering international cuisine, accommodation from five-star to guest houses, traditional dancers, bars in Pub Street and great local spas.
Archaeological park tickets are available from the official ticket office.
Where to stay: La Residence d'Angkor, is a centrally-located riverside Khmer-style hotel.
Diane Plater was a guest of Orient-Express Hotels, Trains & Cruises, flying Qantas to Bangkok, then Bangkok Airways to Siem Reap.
- AAP