Heather Ramsay discovers the fast and furious side of Taiwan as she takes a thrilling nine-hour journey on a high-speed train from Taipei to Chiayi.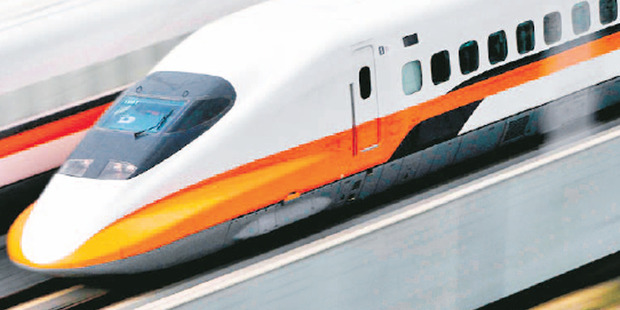 A few decades ago Taiwan was synonymous with cheap goods of questionable quality, but since the 80s the island nation has steadily moved into high-value technology and capital-intensive industries. The country's infrastructure has developed accordingly, with the transport network in particular undergoing constant modernisation.
One strategic development is the Taiwan High Speed Rail (HSR) between the capital Taipei in the north, and the important harbour city of Kaohsiung in the south. This US$18 billion (NZ$26 billion) private sector venture marks the first time that Japanese Shinkansen (Bullet Train) technology has been used outside Japan. The result is Taiwan's sleek 700T train, which can travel at up to 300kp/h and cover the 345km journey in 90 minutes. Around 40 departures per day in both directions means that it's feasible to live at one end of the country and work in the other - or comfortably make a day-trip for business.
Twelve stops are planned and eight have been in operation since the beginning of the year.
We took the HSR from Taipei to Chiayi just a few days after Taipei Main Station was added into the network and everything ran with total precision. Imposing Taipei Station is the hub of commuter transport in the city. English signage is good, including directions to the HSR platform.
HSR tickets can be purchased from a vending machine or ticket counter. As well, an English phone booking hotline operates 9am to 6pm daily. The ticket states vital travel details, including your train, car and seat number. It gives access to the HSR waiting room and platform via a turnstile swipe system, and the same method allows you to exit at your destination station. Announcements are made in English, and on the platform, overhead screens tell you exactly where to wait for your particular car.
Luggage storage is just inside each car, and baggage allowance is generous _ 40kg in total, but with height and length restrictions on each piece. Just don't take "hazardous goods, corpses, bones, bone ash and noxious and dirty stuff". However, if you want to take a small pet (including fish or shrimp), that's okay, as long as it's "well packed, free from leakage of droppings".
We were travelling in the standard cars, which have a seating configuration of 2+3. Leg room is generous, and even if the person in front reclines their seat, your neighbour can easily exit without climbing over you. Business cars have even more room, with 2+2 seating. Bathroom facilities are spotless, if a little cramped. Everything operates via sensors - and be warned, it's easy to activate the toilet flush before you're ready!
Stewards come through selling snacks and drinks, and a scrolling screen at the front of the carriage keeps passengers informed of the next stop and the time until arrival. These are also announced in English. The screen also gives the current speed. The fastest I saw was 287km/h but the train is so smooth and stable that it hardly felt as if we were moving.
Chiayi Station is one of the futuristic new above-ground stations en route. Facilities are excellent and once again, efficiency is to the fore. One inconvenience is that the new HSR stations are a long way from the centres of the cities they service. However, if you were flying you'd have to use shuttles, taxis or public transport links to get to an airport anyway.
There is certainly no doubt that Taiwan's HSR service offers a fast, user-friendly, comfortable alternative to taking domestic flights to the cities in the country's busy western corridor.
Further information: See taiwantourism.org.
Heather Ramsay was a guest of Taiwan Tourism.