Ulrike Koltermann ventures off the beaten track to scale Tanzania's second-highest peak.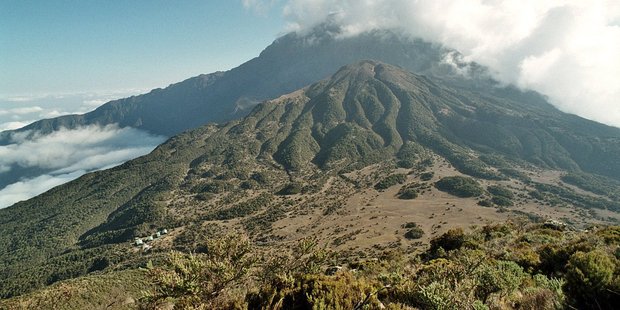 The lady at the reception desk was immersed in her manicure. She breathed hard on her newly bright pink nails one last time before applying her sharpened fingers to the task of filling out a form.
This was not how we had imagined the start of a strenuous trek through the mountains. Between us and the summit lay only 3000 metres - and Tanzanian bureaucracy. It was only after the national park employee had painstakingly calculated the fees and the rucksacks for our porters had been weighed we were able to set off.
Peter, the Arusha National Park gamekeeper and our guide for the next four days, had his rifle at the ready in case buffalo or elephants should become a little too inquisitive. Two porters shouldered our tourist rucksacks with cooking equipment, sleeping bags and winter clothing.
Mention trekking in Tanzania and most mountaineers would think immediately of Kilimanjaro, Africa's highest peak, standing at 6000m.
"The Kili", attracts thousands of climbers a year. The traditional route to the summit is so overcrowded that it is known euphemistically as the "Coca Cola Route".
As Kilimanjaro gets more crowded, an increasing number of climbers are switching their attention to its little brother, Mt Meru, a bit further west. Mt Meru features a steep crater which has collapsed on one side. It may be a "mere" 4566m high, but technically it is every bit as challenging as its more famous counterpart.
The route snakes its way up in a series of switchback curves. Butterflies the size of plates, with vivid black and turquoise wings, flutter above the ferns. High in the canopy above us long-haired monkeys swing recklessly through the branches.
Mt Meru has prepared a stylish reception for guests. We stride through a Gothic style arch, formed by the twisted branches of an ancient ficus tree. We pass through a misty netherworld populated by trees draped with green beard-like plants and fallen tree trunks covered in thick moss.
Soon we are at 3000m and suddenly the fog is pierced by rays of sun and the view is reminiscent of a Tuscan pine forest. A well-tended hiking path winds its way to the next cabin.
The night before the final ascent is short. At 1.30am, Peter urges us to get going. Once our eyes have become accustomed to the dim light we switch off our torches and allow ourselves to be guided by the moonlight.
At 4000m above sea level Meru reveals its true self. This is a volcano which has long since ceased to spit fire, but the surroundings are as desolate as if the mountain was still active.
At first light we set off for the summit, and as we crest the final ridge for a brief moment we have Mt Meru to ourselves and our elated thoughts before the next group of hikers.
During the descent tiredness creeps through the body. But around midday we reach the cabin we had left by moonlight 10 hours before. The respectful looks of those setting off are as rewarding as the climb itself.
NEED TO KNOW
Arusha National Park is an easy 40-minute drive from Arusha, approximately 60km from Kilimanjaro International Airport. The lakes, forest and Ngurdoto Crater can all be visited in the course of a half-day outing at the beginning or end of an extended northern safari.