Everything looks more orderly in Finland compared with the mess that is Russia, reports Jim Eagles.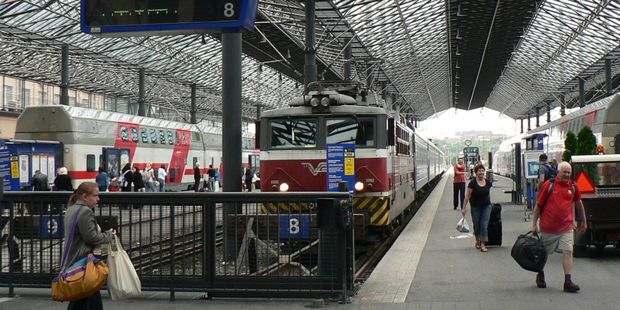 Have you noticed," said Steve Parker, as he looked out the window of the Rapin Express, "that since we crossed the border from Russia into Finland even the trees look straighter?"
Steve is an engineer, so he tends to be aware of that sort of thing, but I had noticed, too. On the Finnish side everything was cleaner, tidier and friendlier than in poor old Russia.
The difference was apparent at the border. On the Russian side there was the usual exercise in mass form-filling presided over by dour officials who didn't bother collecting the papers afterwards.
On the Finnish side no forms at all - a first for our rail journey across Europe and Asia - and a cheery immigration officer who stamped our passports with a smile and offered a few tips about what to do in Helsinki.
Next, a smiling steward arrived at our cabin to advise breakfast was available in the dining car and offer a menu. No one was very hungry because this last leg of our expedition was only 409km and we had already had two boxed meals - one from the hotel in St Petersburg and a second provided by the railway - but it was lovely to be asked.
In addition, the countryside was suddenly clean, green and beautiful. Not that the Russian countryside isn't beautiful - in places it is stunning - but much of it was marred by thick clusters of overhead power cables, endless heaps of broken concrete, tumbledown storage sheds, abandoned factories and rubbish everywhere.
By contrast Finland's magnificent lakes and mountains seemed pristine, the buildings were neat and unobtrusive, and, as Steve pointed out, the forests were clean and tidy.
Yet strangely enough, as we arrived at Helsinki Railway Station at the end of our 9107km journey, I couldn't help thinking I preferred scruffy old Russia, confused Mongolia and chaotic China to this orderly modernity.
There's no accounting for tastes.
HELSINKI
Getting there: Singapore Airlines flies 16 times a week from New Zealand direct to Singapore and from there, 14 times a week to Frankfurt or three weekly flights to Copenhagen. Travel to Helsinki is with partner airlines Lufthansa or SAS.
To St Petersburg by train: Perth-based Travel Directors runs regular tours from Beijing to Helsinki by train called Beyond the Trans-Siberian which include time in China, Mongolia and Russia.
Further information: Travel Directors' New Zealand representatives are Go Holidays, 0800 464646.
Jim Eagles' trip was assisted by Singapore Airlines and Travel Directors.