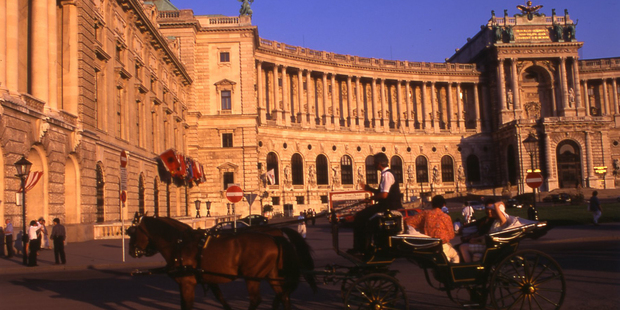 In this 250th year since the birth of Wolfgang Amadeus Mozart, cities throughout the world, including Auckland, are celebrating the musical genius with special performances of his work.
In Vienna, the city where he lived and wrote some of his finest music, the stops are really being pulled out.
Visitors to the imperial city will encounter a greater than usual number of Mozart lookalikes in wigs and period costumes offering Mozart concert information.
Many of the cultural happenings throughout Vienna Mozart Year have been scheduled for the coming Northern Hemisphere summer.
In the same week in May when the Auckland Philharmonia will perform a Mozart celebration concert as part of the APN Premier series, participants in the Vienna Marathon will find themselves running along to musical accompaniment written by the Birthday Boy. The city plans to broadcast Mozart's music along the route of the 23-year-old event.
No one watching should be surprised to spot music lovers among the crowd who are more intent on following the music, bar by bar on their printed manuscripts, than on following the progress of the runners.
Such affinity with music comes with the territory. Many music-loving Viennese buy life subscriptions to Vienna's main orchestra and getting somewhere on the subscriber waiting list is akin to chipping rock with a pin.
Vienna, after all, is the city that nurtured Mozart as well as Beethoven, Strauss, Haydn, Schubert and Mahler, all of whom called the place home, so there's plenty of marvellous homegrown music to enjoy.
But fewer rival composers share the spotlight 300km away in Austria's alpine town of Salzburg, where Mozart was born, and celebrations in his honour are in full and, some might think, competitive swing.
All 626 of his catalogued works will be performed in Salzburg this year, quite a feat, given that Mozart's prodigious repertoire includes operas and many other major works.
And there is a certain irony in Salzburg's salute to its "wunderkind". The young composer grew to detest the stifling, small-minded confines of his provincial birthplace and was delighted when he was fired - for insubordination - from his job as concertmaster to Salzburg's archbishop.
He could hardly wait to leave for the wider world of Vienna, which became his permanent home.
He lived in Vienna for the last 10 years of his short life, and in several different places during that time. But the city has given a new lease on life to the dwelling known as the Mozarthaus, where the composer lived with his family for several of his remaining years.
Mozart married Constanze Weber in 1782. They had six children but only two survived infancy.
The Mozarthaus, behind the magnificent cathedral of St Stephen, is now a museum with a reconstruction of Mozart's apartment, multimedia exhibits featuring his music, and intriguing artefacts that include his score for Symphony No 40.
The score of the Requiem, a work to be performed by the Auckland Philharmonia on May 11 - is held at the National Library in Vienna.
The Requiem was the last of Mozart's works and he became too ill to finish the score.
Some Mozart scholars believe that he would have had an uneasy feeling that he was writing the requiem for himself, but other scholars believe that when Mozart stopped work on the Requiem he was still relatively well and had no idea that his death was pending.
In any event, the score was completed by pupils and colleagues of Mozart, principally Franz Sussmayr.
An interesting exhibition, titled Mozart - The Enlightenment Experiment, traces the musician's links to classicism, romanticism, rococo and Europe's 18th-century intellectual Age of Enlightenment. It has opened at the restored Albertina Museum in the centre of Vienna. The restorations include a terrace restaurant. As the days get warmer, outdoor tables that have the best views over the city will be snapped up. It's a great view.
Although the former imperial seat of a vast Austro-Hungarian empire of 80 million subjects is today the capital of a country of just eight million, the baroque grandeur of Vienna clings to the skyline like an indomitable monarch.
A short walk from the Albertina within the former imperial palace is the Music Museum, containing a fascinating permanent collection of historic musical instruments, including some played by Mozart.
The star attractions in the birthday year will be the musical performances of Mozart's work, and Vienna has a glittering line-up of artists to perform operas, symphonies and chamber music.
Vienna has no shortage of fine venues for these performances. Returning to its original function as an opera house to honour the musical genius this year is the Theatre an der Wien.
Founded in 1801 by Mozart's librettist for The Magic Flute, Emanuel Schikaneder, the theatre has been used for Broadway-style productions.
Vienna's State Opera, the building that gives newcomers feeling their way around town an easy-to-find landmark, will stage three Mozart operas this year.
The fine Burg Theatre, often overlooked by visitors, will also be the venue for Mozart concerts, and Mozart-inspired ballets will be performed in September and December.
Also included in the city's huge anniversary programme are specially commissioned theatre, dance and multimedia works with Mozart themes. These avant-garde performances will take place towards the end of the year.
Even in non-anniversary years Vienna and Salzburg cash in on Mozart's lucrative legacy.
Visitors can expect to find shop shelves groaning with Mozartkugel, the calorie-laden, cream-filled chocolates that have no connection with the composer other than his face on the wrapping.
Mozart-imprinted paraphernalia ranges - with remarkable imagination - from coffee cups and keyrings to tablemats and underwear.
But the surge of Mozart industry won't drown out the music and the joy, sensitivity, romance and sadness expressed by a man who, even by his late teens, was the master of music.
The genius of Mozart was not merely that he composed music of such enduring and universal appeal but that he created so much of it within his short life of 35 years.
And his remarkable legacy was achieved against the practical need to make a living, to attract commissions, organise orchestras, stage and sell performances, teach pupils and play at concerts.
As people stroll along Vienna's elegant pedestrian streets of the Kartnerstrasser and the Graben - pausing for a rest in the garden of the gothic Rathaus (town hall) and in the lovely city parks - they will often be thinking of the great little man who grew to be not much more than 1.5 metres tall.
The magic of Mozart will be the talk of one table or another in the cafes that have developed into social institutions after Vienna appropriated the art of coffee-making from its 17th-century Turkish invaders.
Even late-night revellers working their way through a long night towards a katerfruhstuck hangover breakfast may have the music of the best-loved classical musician of them all humming in their heads.
Mozart is buried somewhere in Vienna's St Marxer Linir Cemetery, although not as a pauper, as myth would have it. He was not impoverished when he died.
Despite the regard in which he was held at the time of his death Mozart was buried in a common grave as only Austrian nobility were permitted to have their names engraved on headstones.
Snowflakes were softly falling in early December last year when I visited Mozart's commemorative cemetery site. It lies in a quiet place, apart from other graves. And as Vienna looks forward to the summer, the path leading to it will be increasingly well trod.
CHECKLIST
Getting there: Star Alliance members Singapore Airlines and Austrian Airlines offer round-the-world return airfares from $3299, including multiple stops.
Activities: The Mozarthaus is at 5 Domgasse, behind St Stephens Cathedral.
Where to stay: Le Meridien on the Opera Ring is a restored 19th-century mansion.
Where to eat: A huge choice, but be sure to call at one of Vienna's historic coffee houses for a taste of real Vienna.
Susan Buckland travelled to Vienna courtesy of Singapore Airlines and Austrian Airlines.