Whatever its reticence about The Sound of Music, Salzburg does not hold back when it comes to its most famous son.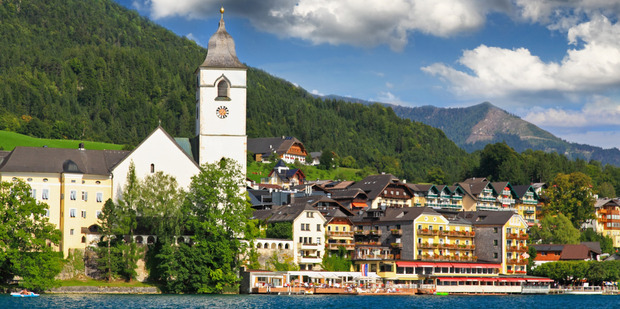 Salzburg's tourism authorities reckon that about 40 per cent of the visitors to their city come with The Sound of Music ringing in their ears. That's a big impact for a movie made as far back as 1964. It is also a little surprising for the citizens of Salzburg, because the film, although a huge hit in the English-speaking world, made little impression in Austria.
What is even more surprising for Salzburgers is that those on the trail of The Sound of Music come from all age groups.
It seems logical that interest in the wheres and whys of a movie would wane as the number of people familiar with it dwindle. But repeated showings of The Sound of Music every Christmas keep winning new generations of fans.
Old and young alike want to see the castle or church where Julie Andrews did this, or where Christopher Plummer and the von Trapp children did that.
Aucklanders, certainly, are not immune, given the number happy to dress as nuns for sentimental re-screenings at the Civic.
All this attention may cause the people of Salzburg to question the cultural priorities of the English-speaking world. After all, their city, Austria's fourth largest, is famed for its association with Mozart. The son of an affluent musician, he was born and raised there before going to the bright lights of Vienna.
And whatever its reticence about The Sound of Music, Salzburg does not hold back when it comes to its most famous son. Mozart's birthplace, on the city's stylish main shopping thoroughfare, and the house later occupied by his family, have both been preserved.
Yet as much as Mozart is the centrepiece of the souvenir circuit, Salzburg is dominated physically by its ancient castle. Established by archbishops in the 11th century, it was much besieged but never captured until handed over to Napoleon.
Its impressive stature indicates why. Access these days is by a solid walk or, more spectacularly, by cable car. Guided tours take you to the castle's extensive battlements - which enabled Salzburg to remain independent for so much of its history - and lavish interior. The city was, as its name implies, made rich by salt mining, and its rulers had no reason to skimp and save.
A visit to the castle should include the museum, which features an imposing arms collection and an array of musical instruments dating back to the Middle Ages - and an assortment of gruesome torture instruments.
Salzburg's history is also on display in its 47 churches, almost all Catholic, that crowd its relatively tight circumference.
The most impressive, near the centre, is the Dom Cathedral, which has magnificent frescos.
For those interested in more recent history, Hitler's mountaintop escape, the Eagle's Nest, is just across the border in Germany's Bavarian Alps. Tours go there, and to the picturesque market town of Berchtesgaden in all but the depths of winter.
There are also, naturally, tours devoted to The Sound Of Music. Dressing up in appropriate costume and singing along to the film's soundtrack are optional for those four-hour jaunts.
Even those who have been spared the von Trapp addiction should consider taking one. If nothing else, it is an excellent way to see the spectacular mountain and lake scenery and chocolate-box villages surrounding Salzburg.
One attractive village is St Gilgen, from which steamboats ply Wolfgangsee in summer. Its claim to fame is being the birthplace of Mozart's mother.
Another village to visit is Mondsee, which has an impressive Benedictine church - and, incidentally, was where the marriage of Maria and the Baron was filmed.
The most picturesque is Fuschl. These days, the management headquarters of Red Bull energy drink are located nearby in a suitably modern structure, further proof that companies do not have to shift to New York or London to achieve international success.
Given such a presence, the Salzburg district is, as has almost always been the case, extremely prosperous - with or without help from The Sound of Music.