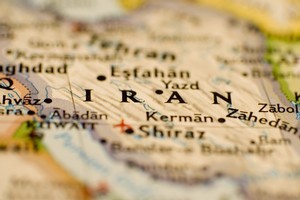 Think of women's clothing and Iran and the unappealing image that springs to mind is probably the shapeless, black coverall of a traditional chador.
But the images Auckland fashion designer Jane Daniels brought back from her visit to Iran were of brilliant lemon yellow tiles, dark red pomegranate fruits, hand-woven rugs dyed deep blue or warm russet, necklaces sparkling with purple amethysts, silver beads still glowing but dark with age, intricate, brightly coloured embroidery and elegant Persian scrolls and arabesques.
And her recollections are of incredibly friendly people, women who have cleverly adapted the dress code of the mullahs to achieve a subtle glamour, an extraordinary ancient history, beautiful buildings and ever-present dust.
There are lots of different reasons to travel - to relax, explore new cultures, learn about history, meet new people, enjoy wildlife, marvel at the beauty of this world, and so on - but in Daniels' case her trips also provide fashion ideas.
Those memories from Iran have been incorporated by her into this year's winter collection - even the irritating dust inspired the design of a washable cloth shoulder bag - which includes loose-fitting trousers, mosaic-like belts, Persian patterns, arabesque designs and even a headscarf.
It's something her clientele has come to expect.
Daniels has always enjoyed reading about exotic cultures and exploring foreign lands and for some years now she has also made use of images from those trips to give her designs a point of difference.
Back in 2007, for instance, she visited the incredible red stone city of Petra, in Jordan, an experience which led her to come up with a range of clothes suitable for travel in hot climates and designed to make it easy for travellers to meet the dress codes of other cultures.
That year's showing of her clothes was so focused on Petra and the joy of travel that one member of the audience at her Christchurch presentation - Robyn Galloway, managing director of Innovative Travel - decide to harness Daniels' enthusiasm by making her the company's brand ambassador.
Since then Daniels has visited places like Turkey, Syria, Egypt and most recently Iran, and her journeys have not only inspired her collections but also, through Innovative Travel's presentations, inspired others to follow in her footsteps.
Next up is Rajasthan, in India, "which I've wanted to go to since I was about five ... because of the amazing colours - which are also great for the watercolours I do when I travel - the textiles, the Moghul architecture and the desert".
Who knows what designs will come out of that.