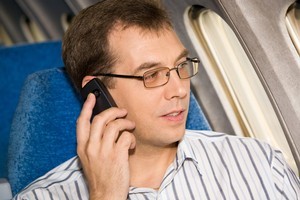 So passengers are going to be able to make mobile phone calls on domestic flights on Air New Zealand's new A320s. Fantastic. Hurrah. Yippee. Not.
Frankly I can't think of anything that appeals less.
I hate it when - as happens increasingly often - the tranquillity of my daily ferry journey is shattered by the person sitting alongside having a noisy phone call.
The other day I got it in stereo when the women sitting on either side both spent the voyage shouting into their phones. One, who actually turned in my direction to make sure I didn't miss a word, outlined in detail a plan to prevent her present employer from knowing that she had a new job. The other, who at least turned away, discussed the state of her relationship.
At least on the ferry it's not too hard to get up and walk away if things get too irritating - anyway, the journey only lasts about 10 minutes. But imagine being stuck between two conversations like that during a flight to Christchurch.
I don't think I'm alone in finding the idea appalling. I asked colleagues who travel in by bus and train how they enjoy sitting next to someone talking on their mobile and both had the same response: "I hate it".
Such surveys on the topic as I've been able to find suggest most people around the world feel the same. A survey for a British mobile company, for instance, found that 82 per cent of respondents agreed with the statement, "I don't want people talking on their phones during flights".
In May last year Air NZ said its customer feedback showed passengers did not want people talking on mobile phones on international flights and there were no plans to let this happen.
So why the change of heart for domestic flights? I put that question to Air NZ but, three weeks on and despite a couple of reminders, there has been no response. Maybe there isn't a reason.
Of course we know there are people who evidently can't do without their mobiles for a second. They're the ones who sit next to me on the ferry. Or those you see talking while driving despite it now being illegal. Or who turn their phones on the second the plane lands and are already spouting about very important stuff as they walk down the aisle. But do their needs really justify annoying everyone else?
Over the years Air NZ has invested a lot of time and effort into keeping customers happy. I'd suggest that before launching on a course that could irritate a lot of people the airline should ask passengers how they feel. If, as I suspect, the overwhelming majority are opposed, then they'd be well advised to drop the idea.
Quite frankly, even if a significant number of passengers do want to use their phones in the air, it's a topic the airline should approach cautiously. At the very least, every flight should have a quiet zone - an area where phone use is banned - as already happens on a lot of trains in Europe. That way, those who can't survive without their phones can yak away and the rest of us can have a quiet zizz.