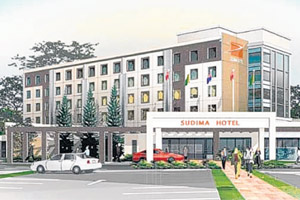 Over the years I've spent a fair bit of time hanging round the world's airports between flights. But I've only once actually forked out the money to stay at a hotel there.
That was in Delhi, when the company I was travelling with said very firmly that it would not be safe to spend the night at the terminal, and booked me a room nearby.
Unfortunately, it wasn't particularly safe getting to the room either, because my taxi driver caused an accident, got into a fight with the other driver, drove through some roadworks, tried to force me to stay at a different hotel ... and then had the gall to demand a tip.
I didn't get much sleep, due to a combination of being a bit wound up as a result of that experience, suffering from jetlag and spending most of the night worrying whether the alarm would work.
Apart from that, thanks to my basic tightfistedness and a feeling that I probably wouldn't get much rest for my money, I've usually spent any lengthy stopovers at the airport and done my best to fill in the time.
Some years ago, coming back from a trip to Africa, I had a night at Auckland International Airport while waiting for an early flight to Napier, and basically spent the time curled up in a sleeping bag on one of their comfy seats. I can't say I slept a lot but at least it was warm.
After my recent trip down the Silk Road, I had a long stopover at Singapore's Changi Airport. I didn't sleep much there either, but they were screening World Cup football matches, and that plus a few walks, writing a couple of stories and a bit of time on the internet saw me through.
I could have, had I felt so inclined, taken a free city tour of Singapore, played Xbox games at no charge, watched movies for nothing or paid about $220 to spend the time at the Crown Plaza Changi, attached to Terminal 3.
Auckland doesn't offer all those freebies and there aren't any hotels attached to the airport - though a hotel is due to open there next year - but these days you can watch TV or use the internet, or you could stay a few kilometres away in Mangere for as little as $50.
As I grow older the idea of paying for a bit of comfort and the chance of a lie-down - maybe even a bit of sleep - seems more appealing.
As a result I read with interest a press release issued by internet travel company Hotels.com listing their choices as "the best airport hotels en route to Europe."
Top of the list is the Regal Airport Hotel, Hong Kong, chosen by Business Traveller magazine as the best airport hotel in the world.
Then there's the Pan Pacific Kuala Lumpur Airport Hotel, Crowne Plaza Changi, Dubai International Airport Terminal, ANA Crowne Plaza Narita, Tokyo, Hotel Incheon Airport, Seoul, Al Rawda Arjaan by Rotana, Abu Dhabi, Sino Swiss Hotel Beijing and Caravelle Hotel, in Ho Chi Minh City.
They all sound very nice. I think one of these days I will try a sleepover at an airport hotel between flights. I've made a note of the names.