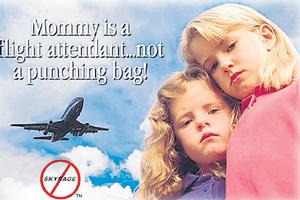 Hot on the heels of the growing number of road rage incidents, it seems air rage is on the rise as well.
In Australia, particularly, it seems there's an increasingly bad chance of being on a flight where some passenger - probably drunk, possibly fed up with overcrowded airports - creates a scene.
And, according to the Australian-based electronic aviation magazine Flightpaths, air rage is also a growing issue in Britain and New Zealand.
The claim about New Zealand seems a bit dubious. Civil Aviation told me the problem was "negligible". A spokesman said the number of recorded incidents of unruly behaviour in the air was: none in 2003, three in 2004, one in 2005, 11 in 2006, six in 2007, one in 2008 and none in 2009.
Air New Zealand says it hasn't registered any increase in air rage incidents either. In fact a spokesman says that, on the contrary, the introduction of individual entertainment screens has led to increased customer satisfaction.
"As people tend to be more engrossed in their inflight entertainment, they are less bored, drink less alcohol ... and if there are delays can continue to watch the entertainment as we offer it gate-to-gate."
On the other hand, there's no doubt things are getting bad in Australia. The Office of Transport Security across the ditch reports the number of air rage incidents has climbed from 67 in 2007, to 279 in 2008 and 461 last year.
That's an appalling increase, though the number of incidents is still pretty small compared with the number of flights.
The two unions representing airline staff in Australia reckon the problem is primarily caused by excessive drinking - a view obviously shared by Qantas which has banned spirits and full-strength beers on all flights within Western Australia because of the number of incidents - but they also blame bad airport experiences which, as Flightpaths puts it, "have passengers near boiling point before they board the aircraft".
Air rage is enough of a problem around the world that there's now a Sky Rage Foundation devoted to combatting it and a website, airrage.org, which records news on the topic.
I've never seen an air rage incident. The nearest was when a young man shoved his seat back abruptly and sent the guy behind's drink all over him. But the Air NZ cabin crew defused things by moving the outraged victim to a seat in business class.
Nor, I'm happy to say, have I been involved in one. I have, a couple of times, got on planes near boiling point - after bad experiences at Los Angeles and Heathrow - but just getting on the plane and being able to sit back and relax has a calming effect.
And apart from a flight on Air Vanuatu, where the stewardess kept bringing us drinks without even being asked, my experience is that airlines are pretty tight on alcohol these days.
Travel can have its frustrations but personally I find the best solution is to stick your nose into a book or hook up to a movie and escape somewhere else.